Google has released a Google Buzz widget for Android phones aimed at making it easier for users to update their status and share content with others.
The Google Buzz widget allows users to post text and photos with a single tap, directly from the Android home screen.
The Google Mobile Blog provides more details. "Like other mobile access points for Google Buzz, the widget lets you choose to tag your post with the location or place from which it was posted."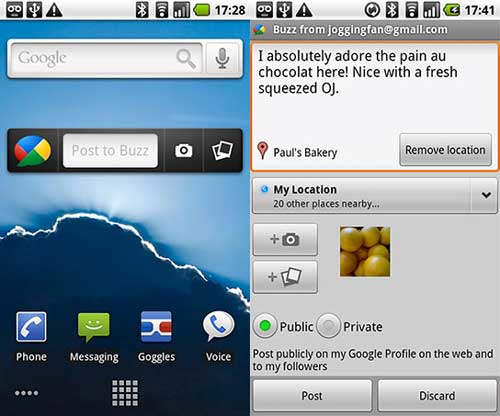 "You can post buzz about a great meal you had and share photos of the new restaurant. To save time, your posts will upload in the background, letting you get back to your scrumptious dessert without a wait."
The widget is currently available in English for Android phones running 1.6 and later. Google says it plans to add support for other languages soon.
Search for Google Buzz in the Android Market to download the widget. Once installed, you can add it to your home screen: tap "Menu" while on the home screen and select "Add > Widgets > Google Buzz".