Google has finally released an Android app for Google Reader, and as the company acknowledges itself, "It's been a long time coming." I couldn't agree more as a user. I already use a bookmark for Google Reader probably more than any app on my phone, so having an actual app for it should be pretty nice.
I've often wondered why they didn't already have one, and was starting to wonder if they just didn't care. After all, RSS never really caught on at an incredibly mainstream level. Sure, most blogs offer feeds, but at the user level, I'm not sure they ever accomplished the kind of usage some expected when they were first taking off.
Then Twitter and Facebook emerged as adequate news-reader-like tools that were just easier to understand for the average user (at least the average user of these services).
Interestingly enough, I was already thinking about this today as I was covering Ask's release of the top ten questions and answers of 2010. The company had also released top ten most popularly answered questions for several different verticals, and number six on the Technology/Internet list was, "What is an RSS feed?"
As if on cue, now Google has put out an app for its feed reader on its burgeoning mobile operating system (it's tied with Apple's iOS in terms of desirability according to a new report from Nielsen).
The new Google Reader app supports unread counts, friends, sharing, linking, and starring, as well as multiple accounts, synced preferences, full subscription features (subscribe and search from your phone), and search.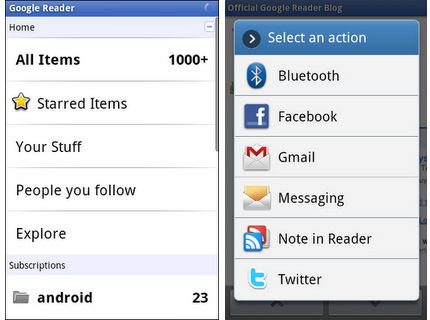 Google also highlights a couple of "harder to discover" features like volume-key navigation, long-press on a folder or subscription to bring up menus, and the ability to hit the menu key on an individual item to use the "send" feature which integrates with other apps on your phone. This is helpful for sharing content on Twitter or Facebook or by email for example.
After messing around with the app for a few minutes, I have to say I prefer the interface to using the web version on the phone. However, it seems to be running a little sluggish, but I can't say if that's the app's fault for sure, though other apps seem to be running fine. If you're a Google Reader and an Android user, check it out. It's free in the Market. Let us know what you think.