Google announced today that it is launching Google Maps Navigation in 11 new countries. These include Austria, Belgium, Canada, Denmark, France, Germany, Italy, the Netherlands, Portugal, Spain, and Switzerland.
Google Maps Navigation is Google's GPS navigation system, and this would be version 4.2 of the service. It works on Android devices 1.6 and higher, and provides turn-by-turn voice guidance as a free feature of Google Maps.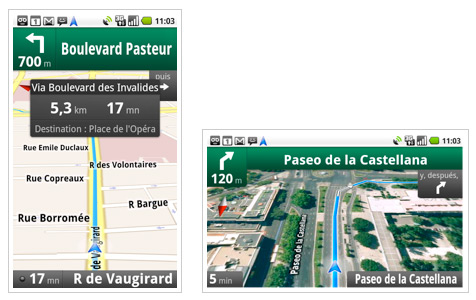 Search by Voice
Google Maps Navigation comes with Google's Search by Voice Feature, and it just so happens that this feature also received an update today. It now recognizes French, Italian, and Spanish, in addition to the languages it already supported (English, Mandarin Chinese, and Japanese).
This feature goes well beyond Google Maps, and into Google search in general. Android 2.1 (and later) users that have the Quick Search Box installed can simply tap the microphone icon to start a voice search. iPhone and Blackberry users who have Google Mobile installed can enable voice search by selecting the new languages from the settings panel.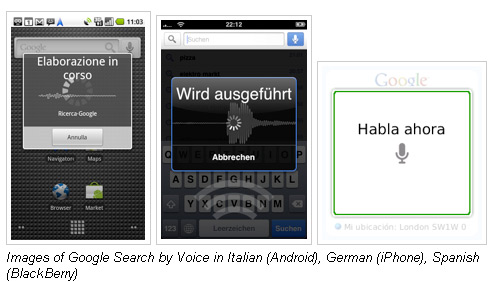 "Our goal is to bring Google Search by voice to speakers of all languages," says Amir Mané, Product Manager, Google Speech Technologies. "We follow a rigorous process to add each new language or dialect. Working directly with native speakers in each country, we spend weeks collecting spoken utterances to create the specific models which power the service. Our helpers are asked to read popular queries in their native tongue, in a variety of acoustic conditions such as in restaurants, out on busy streets, and inside cars. We also construct, for each language, a vocabulary of over one million recognizable words. It's no small feat, but we love doing it."
"Note that our new language models are designed for accents from Spain, France, Italy, and Germany," adds Mané. "If you speak one of the new languages with another accent (for example, German in Austria, French in Switzerland, or Spanish in Mexico), Search by voice may not work so well for you."
Google Maps Navigation can be downloaded (on supported devices) by searching for Google Maps in the Android Market. Note that the product is in beta, which means it is subject to imperfections – certainly worth noting, considering the recent incident with Google's walking directions.