I've been a member of Google+ for exactly three weeks today. It seems like only yesterday that I tentatively attempted a login that I was sure would fail, only to be welcomed into the selective arms of the hottest new social network on the block. What magnificent sorcery had allowed my passage? Great fortune? A glitch? Had my friend gamed the system by tagging me in a video, thus enabling my unexpected acceptance?
Not quite. Turns out Google had just opened it up for an hour or so and I got lucky. But the fact remains, I was one of the chosen.
Now, as more and more of my friends join and swear off Facebook for good, I find myself in a pensive mood.
Actually, I just came across something from a few days ago that got me thinking. LinkedIn CEO Jeff Weiner made some comments about Google+, most of them dismissing the new social network as an unwanted addition to an already full party. Apparently, he thinks that there is no vacancy in the social media hotel.
"Nobody has any free time," he said. Facebook is for friends, Twitter is for short messages and LinkedIn is for business. "Unlike social platforms and TV, which can coexist, you don't see people using Twitter while they're using Facebook, or using Facebook while they're using LinkedIn."
With all do respect to Mr. Weiner, that's an atrocious load of crap.
I, for one, frequently use Facebook and Twitter. My tweets are cross posted on Facebook – so that I can receive feedback on both sites. Not only am I quite active in both Facebook and Twitter, but I'm trying to beef up my Google+ activity as well.
Although I believe that it is entirely possible for Google+ to coexist with the other social networks, Weiner's comments got me thinking: Am I forcing it with Google+?
While posting to Facebook and Twitter feels so natural, an integral part of my daily life, am I trying too hard to integrate Google+ into that routine – knowing that it feels superfluous? I like Google+, in some ways more than Facebook. But for an early Facebook adopter (2004), can Google+ ever feel as natural?
That long-winded introduction brings me to this: a brief discussion of things I like and dislike about Google+, now that the initial firestorm has cleared.
I am still undecided about the entire circles concept.  When I first encountered them, I was optimistic.  I even mentioned that to me, circles felt like a natural, fluid way to categorize people in your life.  And I still believe that to some extent, but the sharing with circles is tedious in my opinion.  While I am well aware that this complaint is the ultimate #firstworldproblem, it bothers me nonetheless:  The practice of having to click multiple circles with which to share my posts is oftentimes a burden.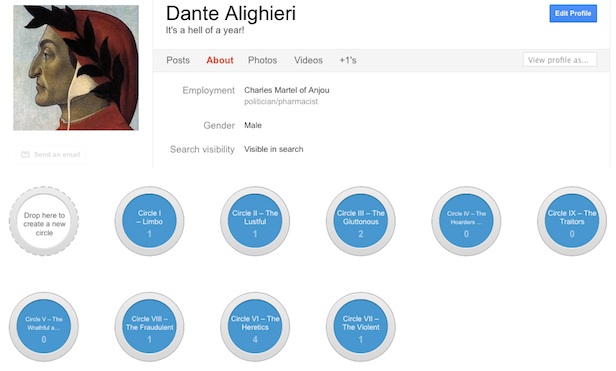 In a related note about circles, some people dominate my stream. Erick Schonfeld posted on Google+ today about how Robert Scoble posts so much that he needs his own circle. This is a solution for weeding out the super-noisy people who flood your stream.
The problem is that I find myself in the Facebook mindset where I want a comprehensive stream that includes all of my friends. I don't want my collaborative Google+ stream to be missing anyone because I will rarely remember to click on their specific circle to view an entire separate stream of just their posts.
On a positive note, I've had a whole lot of fun naming my circles. It would be improper to go into the names of some of those circles, as they are a tad uncouth. But just know that I've been creative.
I like the Google+ interface. I think it is basic, clean and easy to navigate. This is so important when it comes to using it via the web. I am also a fan of the iPhone app that just dropped. Sure, it could be spiced up a little bit but the functionality is there.
I also love the ability to share actual text posts, not just videos or links that people post – like on Facebook. Being able to do this sparks interaction and promotes comments. I wouldn't be the least bit surprised if Facebook eventually allows this as well.
I'm not really using the Hangout or Sparks features. This is not to say that I don't like the Hangouts. I think that they are simple, fun and a great option when you want to chat with multiple people at once. I also really dig that YouTube watching feature within Hangouts.
If you regularly use those features, this point doesn't really apply. But for me (and I'm sure many others), I am using Google+ to post videos, links, and statuses. If that sounds familiar, that's because that is exactly how everyone uses Facebook.
And as of right now, Google+ doesn't do that any better than Facebook. So for a person using Google+ primarily for that reason, I find myself wondering why I should post to Google+ instead of Facebook. This might not be a conscious debate that I have in my head every time that I have something to share, but it does feel like my default still lies with Facebook and Twitter – to an overwhelming degree.
Sure, my experience with Google+ is still in its infancy, but I wonder: Am I already too connected with Facebook and Twitter? Could they ever cease to be my defaults?
Google+ has a long way to grow. It's still in a beta test, remember? Once it truly integrates all over the other Google properties into the network, that might be a game changer. The world that Google+ might end up being best suited for is that of business (once business pages are completely hashed out).
Sure, Google+ can coexist with other social networks. But for many children of the Facebook revolution, can Google+ ever compete on the level of friend and family interaction?
[Lead Image Courtesy
XKCD
]