Today Google announced that it has added Cherokee to its incredibly large list of search languages.  Like many Native American languages, Cherokee is in danger of becoming extinct.  This partnership between Google and The Cherokee Nation is being hailed as incredibly important by both sides involved.
Preceding Cherokee on the language list was Elmer Fudd and Klingon.  At least they got to it before they tackled Na'vi.
You can change the language by clicking the Language Tools page directly to the right of the search box.  Once you select Cherokee as your default language, the Google homepage should look like this: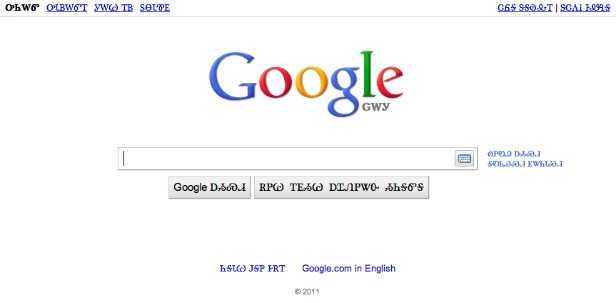 Google has also added an on-screen virtual keyboard accessible by clicking the keyboard icon on the right side of the search box.  It looks like this:

The Google blog post also gives us a brief history lesson about the Cherokee language, showing exactly why it is worth preserving:
The Cherokee syllabary writing system was developed by Sequoyah in the early 19th century. He realized the power of writing systems, and wanted his people to benefit from that power. Some of the 85 characters he developed for his syllabary were modified from his original handwritten script for a printing press in the 1820s, resulting in characters that resemble Latin and Greek letters. Despite the resemblance, they are pronounced differently. The modified script was quickly adapted for printing Cherokee newspapers, books and pamphlets. The adoption and use of the script enabled the Cherokee people to maintain their language and culture. Today, Cherokee is spoken mostly in the states of Oklahoma and North Carolina.
Cool.
The official site for The Cherokee Nation also posted a statement about the new language option.  They think that incorporating their language with the virtual world is a legitimate way to keep it alive.
"I believe that efforts like those of Google are essential to keeping our language alive," said Cherokee Nation Principal Chief Chad Smith. "We have been working hard to get our young people interested in learning our Native tongue but we cannot be successful unless they can read and write in the medium of their era – all the digital devices that are currently so popular."