Many global consumers are willing to pay for some online content or are open to increased advertising, but attitudes vary greatly by geography, demographics and content type, according to a new survey by Nielsen.
Nielsen polled more than 27,000 consumers in 54 countries to determine attitudes about paying for online content and to gauge what types of content consumers were most likely to support financially.
More than half (57%) of global consumers are willing to pay for professionally produced content such as music and movies, while 50 percent are willing to pay for current Tv shows.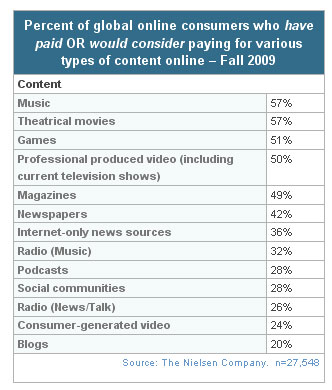 Only 20 percent of consumers are willing to pay for blogs and less than a quarter (24%) would pay for user-generated video content. Nielsen found consumers are more likely to spend money on what they currently pay for, instead of what they already receive for free.
Nearly half of global respondents indicated they would be open to more ads to support free content, but that varies by market. For example, 57 percent of respondents in the Middle East, Africa and Pakistan are more open to advertising, while just 40 percent in North America and 39 percent in Europe feel the same way.
Related Articles:
> Nielsen Also Puts Bing Up In November
> November Online Video Trends A Mixed Bag
> Online Video Viewing Continues To Boom