As the story of a young Syrian-American blogger being kidnapped makes its way across the internet, many are beginning to question the validity of the story – even the validity of the blogger in general.
Amina Abdallah runs the popular blog "A Gay Girl in Damascus," which is described as "an out Syrian lesbian's thoughts on life." Her blog posts include poetry, personal stories and commentary on the recent violence sweeping Syria as the government cracks down of anti-regime protesters.
On Monday, a post appeared on the blog reportedly from Amina's (full name Amina Abdallah Araf al Omari) cousin. She reported that Amina had been abducted by three uniformed, armed men near a bus station. She was thrown into a red van and taken to an unknown location. From the post:
The men are assumed to be members of one of the security services or the Baath Party militia. Amina's present location is unknown and it is unclear if she is in a jail or being held elsewhere in Damascus.
The cousin later posted an update, saying that Amina's father is desperately trying to find out where she is, but all they know right now is that she is in fact missing.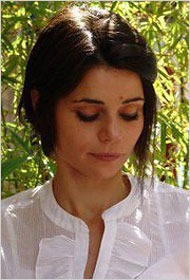 "A Gay Girl in Damascus" had become popular partially thanks to a post entitled "My Father, the hero." In this post, Amina details an event where her father averted her kidnapping from her home by two armed men by shaming them into leaving.
Not only did the traditional media jump on the story, but the internet exploded as well. #FreeAmina began to trend on Twitter and a Facebook page popped up entitled "Free Amina Abdalla, Syrian Blogger."
Now here's where the story gets really interesting. A particular photo (see left), supposedly of Amina, was posted to the newly erected Facebook page and the media, both internet based and traditional, used the photo to identify Amina. It appears, however, that the picture that was circulating may not actually be Amina.
According to the WSJ, a London woman is saying that the photos supposedly of Amina Abdallah are actually in fact photos of her. The woman, Jelena Lecic, provided proof in the form of more photos that appeared to match the ones being passed off as Amina. Apparently Lecic's ex-husband spotted the photos being circulated as Amina and recognized his ex-wife.
NYT blogger Robert Mackey just tweeted this, about the alleged photos' similarity to Lecic's Mypace account photo.
@RobertMackey
Robert MackeyPhoto from #FreeAmina FB page does look just like Myspace image of Jelena Lecic, Londoner identified by the publicist http://mysp.ac/ll5HHI

1 hour ago via web · powered by @socialditto
Here's a screencap from her profile photo, as all the rest are set to private: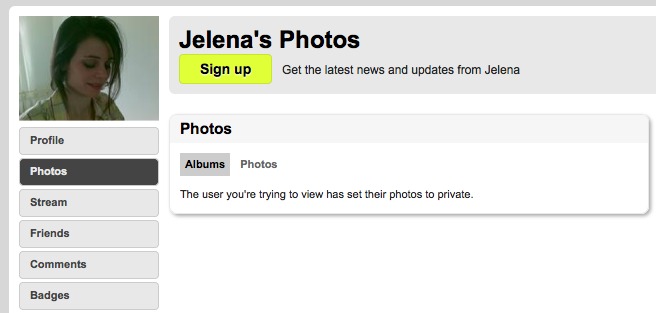 Many are also beginning to become skeptical about the existence of Amina, as it is coming out that nobody has really ever met Amina face to face. She has been interviewed by CNN, the BBC, and Al Jazeera but only via email.
NPR's Andy Carvin asked this question via Twitter, and is having trouble finding any takers:
@acarvin
Andy CarvinJust wanted to ask again: has anyone met #Amina (Gay Girl In Damascus) in person? If so, pls contact me.

21 hours ago via TweetDeck · powered by @socialditto
Sandra Bagaria, who is identified as Amina's girlfriend, apparently has never seen her either. Their relationship is totally virtual, not even having seen each other via Skype. From the NYT Lede blog:
Although it remains possible that the blog's author was indeed detained, and has been writing a factual, not fictional, account of recent events in Syria, readers should be aware that the one person who has identified herself — to The Times, the BBC and Al Jazeera — as a personal friend of the blogger, Sandra Bagaria, has now clarified that she has never actually met the author of the Gay Girl in Damascus blog. Ms. Bagaria told The Lede that she had also never conversed with Ms. Arraf face to face via Skype, but had conducted an online relationship with her since January entirely through Internet communications in writing, including more than 500 e-mails.
This sure is a compelling story, as somebody wrote all those blog posts, even if "Amina" doesn't really exist. The flip side of this is that she may very well exist, and has simply kept an extremely low profile on purpose. If a person has actually been taken and is being held for some blog postings, it doesn't matter if it's a man or woman, or if their name really is Amina – or what they look like. It's a fascinating and deeply troubling story.
The social media angle in all of this is compelling as well. It demonstrates, once again, how something can catch fire so quickly on Facebook and Twitter, while the facts don't even come close to adding up. It's fascinating to think that it's possible that Amina was somehow crafted out of thin air, and given life on the internet.