Well, I guess this is one way to cure your writer's block.
It turns out that the person behind the "Gay Girl in Damascus" blog is actually an aspiring fiction writer from Georgia. And by Georgia I mean the state. And the 'gay girl" is also a married guy.
Last week, a story was picked up about a pretty young girl living in Syria who had been kidnapped by state forces in the country and taken to an unknown location. The girl, named Amina, was the author of a popular blog entitled "Gay Girl In Damascus." On June 6th, her readers were shocked to see a post from Amina's cousin, who said that the girl had been kidnapped by "security services of the Baath party militia."
The blog has nearly one million page views and provides followers with poetry, political statements and autobiographical content – all purportedly written by Amina, an out lesbian in Syria. The blog had even contained posts detailing encounters with anti-gay Syrians, most notably one where Amina's father supposedly shamed two armed men out of kidnapping her in the middle of the night. Everything on the blog was reported as fact.
As the post about the kidnapping went live, it didn't take long for the #freeAmina hashtag to trend on Twitter and a Facebook page declaring the same garnered thousands of likes in hours. When the story became national news many began to question not only the kidnapping account, but the identity of the blogger as well. Did Amina really exist?
Many on the internet, especially on Twitter, began to doubt the validity of Amina's story. NPR's Andy Carvin was one of the first to ask his followers if anyone had actually ever seen Amina? The answer was a resounding no. Her only interviews had been given via email and nobody could say with certitude what she looked like.
The many supposed photographs of Amina that began popping up on Facebook turned out to be unauthentic, as the Wall Street Journal broke the true identity of the girl in the photos. A London woman named Jelena Lecic came forward when her ex-husband notified her that her picture was all over various news sites.
Over the weekend, more information came out that linked the "Gay Girl in Damascus" to a man named Tom MacMaster, an American living abroad in Edinburgh, Scotland. After confronted with questions from various journalists regarding his role in the blog, he finally came clean.
The Gay Girl in Damascus blog is now entitled "A Hoax." Yesterday, MacMaster issued this apology on the blog (still posted as Amina A.)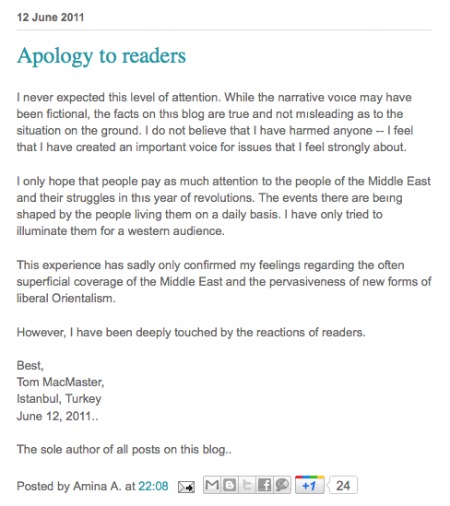 If you read that the way that I read that, it's pretty far from an apology. MacMaster instead sticks by his actions, saying that he has created awareness and that he hasn't harmed anyone.
But when you carry out interviews with the likes of CNN as Amina, you make people care about your story. And if you carry on a months-long online relationship with another woman who thinks you are real, I'm pretty sure that qualifies as harming someone. Whether MacMaster had a change of heart or just saw all the criticism he was taking on the internet, he sure changed his tune today.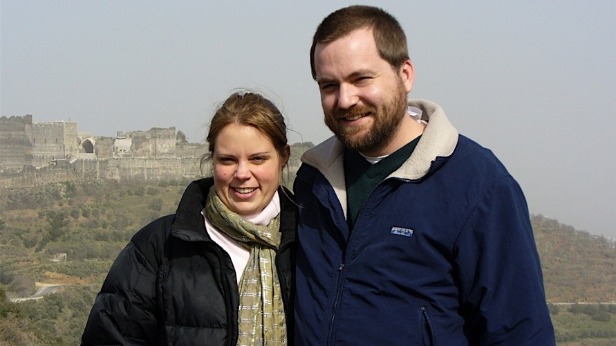 Today, he has provided a much lengthier and more detailed apology, where he discusses his motivations for creating the Amina character out of thin air. According to MacMaster, the whole thing was an exercise in fiction writing –
It started innocently enough without any intention whatsoever of creating a massive hoax or duping the world. Ever since I was a child, I've wanted to write fiction but, when my first attempts met with universal rejection, I took a more serious look at my own work and I realized that I could not write conversation in a natural way nor could I convincingly write characters who weren't me. I tried to get better and did various exercises (such as simply copying overheard conversations). Eventually, I would set up a number of profiles on dating sites with identities that were not my own as ways of interacting with real people in conversation but with a different personality than my own.
He says many times in this apology that he knows he has hurt people, and that he is sorry for that. He says that the whole situation spun out of control –
I wasn't trying to pick fights or stir up controversy … I was instead trying to enlighten people. I posted comments on a blog; the owner asked me to contribute columns. I did so. I set up a blog to publish some of the things I'd written as Amina and, maybe, get a few comments. I did not expect anyone to read it or to care if they did.

And in the first month and more it was up, it received only a few visits. That was more than I had expected. Then, I wrote a perfect little story about the situation in Syria and the mutual affection between father and daughter … and to my shock, it went viral ….

And everything spiraled out of control. I couldn't think of how to shut Amina down but …. It just kept on growing …
What a bizarre story this has turned out to be. Of course it's the obvious move to put all the blame on Tom MacMaster for purposefully misleading everyone involved. He definitely shares the majority of the responsibility. But some blame has to be put on those who would believe everything they see on the internet.
Sometimes, the only way we can tell the difference between a novel and a history book is by its place on the shelf in the bookstore. On the internet, we don't get convenient groupings, so I guess the moral of this story is to always stay vigilant. Always know that when you emotionally invest in someone's life story online, there's the chance that it is simply an elaborate work of fiction.
Here are some of the most poignant tweets about the story:
@acarvin
Andy CarvinWe shouldn't. RT @michele_norris: @acarvin What does the Amina hoax tell us about the need to impose a narrative on the Arab Spring?

4 hours ago via TweetDeck · powered by @socialditto
@monaeltahawy
Mona EltahawyTo all complaining that #Amina distracted from #Syria and real Syrians: it's v easy: stop tweeting about it and tweet about Syria instead.

2 hours ago via web · powered by @socialditto
@dylanhorrocks
Dylan HorrocksBefore we let the #Amina hoax put us off online citizen journalism, remember how quickly it was uncovered – by online citizen journalists.

18 hours ago via web · powered by @socialditto
[Image via Picasa via NPR]