Recall, it was not too long ago that Foursquare released their latest developer toolset, the foursquare API v2.
Recently, in an effort to bolster the developer community and kick start more Foursquare-based apps, the company hosted their first Hack Day event in New York. According to the Foursquare dev blog, some 150 developers showed up at the event including geeks from around the States and even a few from Canada.
Foursquare hosted a series of technical workshops, had engineers on hand to respond to questions, and fed the group – apparently more than 25 pizzas and 300 cups of coffee were consumed! Attendees took part in a hackfest of 15 hours of coding that resulted in the creation of 39 new foursquare based apps – if you're wondering why Foursquare is leading the war in the check-in space there's no doubt that opening up their API (developers now have access to the same code that the foursquare engineers do) is the main reason why this has become not just the checkin app of choice but also the social checkin platform of choice!
Some of the cool apps that developers created include:
Fourgraph – auto-generate your own foursquare infographic
MayThemPayMe – split a shared bill with people you checkin with
And the "winning" app Dealio – leave a private message for a friend when they checkin
See complete details of the hackfest on the foursquare Blog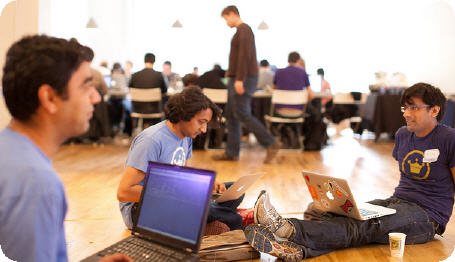 Photo Credit – foursquare Flickr
Developers can learn more about the API at http://developer.foursquare.com/