Update: Tragically, Koenig's body was found in Stanley Park in Vancouver. His father Walter Koenig reportedly said in a press conference, "Our son took his own life. He was obviously in a lot of pain."
More here.
Original Article: Andrew Koenig, an actor best known for portraying Kirk Cameron's best friend "Boner" on the 80s sitcom Growing Pains has gone missing, and his family is using the web to try and find him. The family's efforts begin at Andrew's father's website at WalterKoneigSite.com, which details Andrew's last known whereabouts and the efforts the family is taking to try and locate him.
Here is what he looked like on "Growing Pains":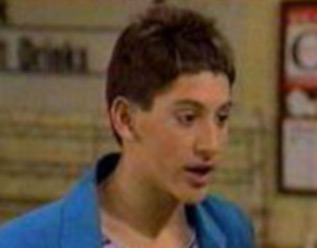 Here is a more current photo provided on the site: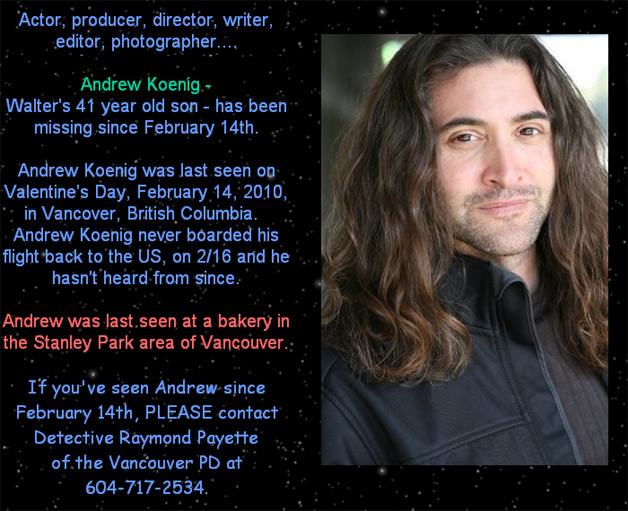 "Andrew has been an activist his entire life and most recently has been working on behalf of the people of Burma, and was arrested during the 2008 Rose Bowl parade for protesting American involvement in China's Olympics," it says on the site. "Andrew was suffering from depression at the time of his disappearance. The last time the Koenigs heard from Andrew by phone was on February 9. His cell phone is turned off and the last time his phone received a text was on February 16 in Vancouver."
It goes on to explain that on February 16, Walter got a letter from his son, which left him "concerned," due to its "despondent tone." The site says it's not believed that any specific incident prompted the disappearance, adding that drugs were not an issue.
Contact information for the Vancouver detective on the case is provided at the site.
Andrew appears to have a Facebook profile with over 500 friends, though it's hard to say with certainty that it's legitimate (update: a reader has commented that she is a friend of his on Facebook and that it is his profile). A Twitter profile registered to an Andrew Koenig, sporting the same current photograph provided by Andrew's father's site can be found at twitter.com/JeSuisLeSinge. Again, we can't be certain of the legitimacy, but it looks convincing as it displays tweets regarding activism-related topics. It has not been updated since January 24.