Facebook's privacy issues have 60 percent of its members considering leaving the social network, according to a new survey by IT security firm, Sophos.
The survey of 1,588 Facebook users found that 16 percent of those polled have already stopped using the social network due to inadequate control over their data.
Sophos says the survey revealed that the majority of users are frustrated with the lack of control that Facebook gives them over their own data. Most don't know how to set their Facebook privacy options safely, and find the process confusing.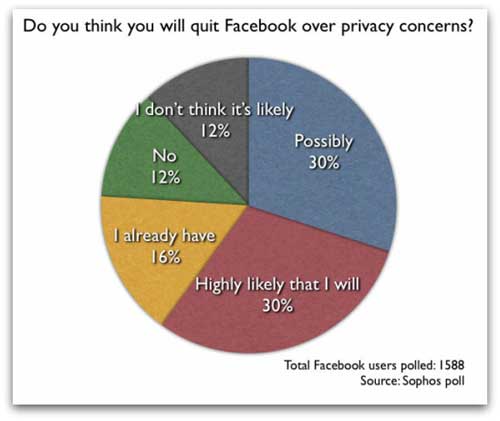 "A mass exodus from Facebook seems unlikely, but Facebook members are clearly getting more interested in knowing precisely who can view their data," wrote Graham Cluley, Senior Technology Consultant, Sophos, in a blog post.
"With this survey showing that only 24% of users aren't thinking about quitting, Facebook will need to make sure further changes to the privacy policy are clear, concise and in the interest of making it easier for members to know exactly who has access to whatever they chose to upload."