Nearly 40 percent (39%) of Facebook users who become fans of a brand do so to show their support of a company to their friends, according to new study by ExactTarget.
"Consumers use Facebook to interact with friends, be entertained and express themselves through their public affiliation with brands – factors that combine to create a potent viral marketing platform," said Jeff Rohrs, principal, ExactTarget's research and education group.
"By engaging consumers on Facebook in a way that keeps them entertained, brands have an unprecedented opportunity to mobilize Fans and get introduced to their friends."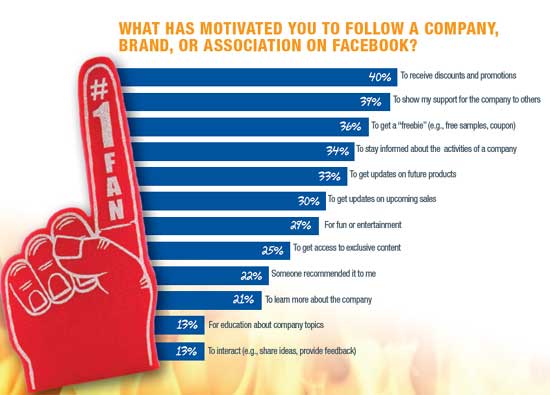 Forty percent of Facebook users become fans of a brand to receive discounts and promotions, while 37 percent use the site to manage their social life.
Nearly two-thirds of U.S. consumers and three quarters of Millennials have created a profile on Facebook and the most common reason for using the site is to reconnect with old friends and friends who live far away (63%).
Other highlights from the study include:
*30 percent of consumers use Facebook to occupy their down time citing it as a "guilty pleasure," and 31 percent say they monitor the amount of time spent on Facebook because of its addictive nature.
*Women are more likely than men to use Facebook for maintaining personal relationships (63 versus 54 percent), connecting with old friends (68 versus 56 percent) and managing their social lives (41 versus 34 percent).
*Consumers' capacity for exposure to brand messages via Facebook is limited—half of all fans "like" only one to four brands and only 17 percent of consumers say they're more likely to buy after becoming a "fan" on Facebook.
"Facebook provides a unique opportunity for marketers to creatively connect with motivated audiences online," said Tim Kopp, ExactTarget's chief marketing officer.