For a long time, Orkut has been the one bright spot in Google's social media stable; it's been the sole product that became really popular in some markets, even as everything else struggled to gain users (and/or not get the axe). Only new stats indicate that Facebook's beaten Orkut in India, which represented one of its two strongholds.
According to comScore, Orkut attracted around 19.9 million unique visitors in July. Facebook bested that by attracting closer to 20.9 million people, and that gave Facebook the top spot in the "Top Social Networking Sites in India" category for the first time ever.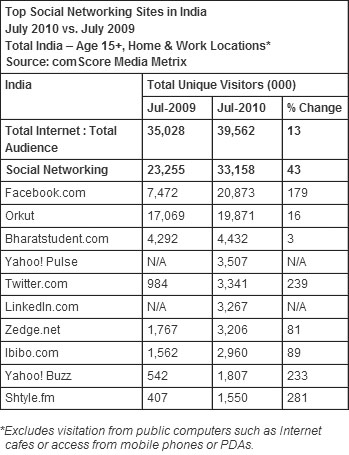 Facebook doesn't appear to be running out of steam, either. comScore said in a statement, "Facebook.com posted an especially strong month in July, growing 12 percent versus June, to capture the top spot in the category with 20.9 million visitors."
That's very bad news for Google. India's home to a whole lot of Internet users – comScore considers it "the seventh largest market worldwide for social networking" – and any loss of mindshare has the potential to translate into a lot of missed marketing opportunities.
Also, as Google (allegedly) builds a new social network meant to take on Facebook, this development undermines whatever small amount of social credibility the company had.
The one detail that might work in Google's favor is comScore's disclaimer about public computers (see the small print below the chart). Internet cafes are popular in India, so it's possible Orkut has a lot of fans who just weren't counted.