Update: I finally got word back from Facebook, who confirmed that the feature is indeed only a test. "The "Promote" feature is just a test and is unrelated to our Promotions Guidelines," the company says. They did not give any specifics about a possible full launch.

Original Article: Facebook appears to either be rolling out or testing a feature that lets Facebook Page owners promote specific posts. When you make an update, a link that says, "Promote" can be found by the links for "Comment" and "Like".

Once you click that Promote link, it brings up a dialogue box, which asks you to create an ad, with targeting descriptions, the ad duration, and the maximum price of "Up to $50.00 USD".
Editor's note: Feel free to become our fan on Facebook, by the way.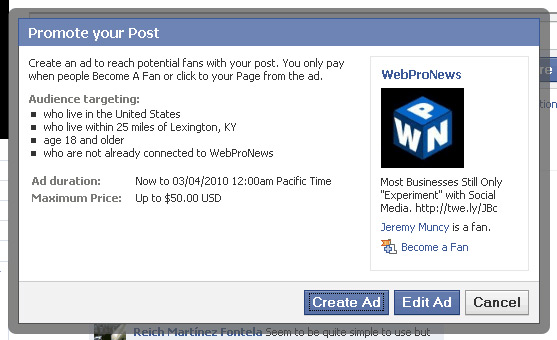 You can click on "Edit Ad" to go to the standard Facebook Advertising Page, or you can click "Create Ad" to go to this page: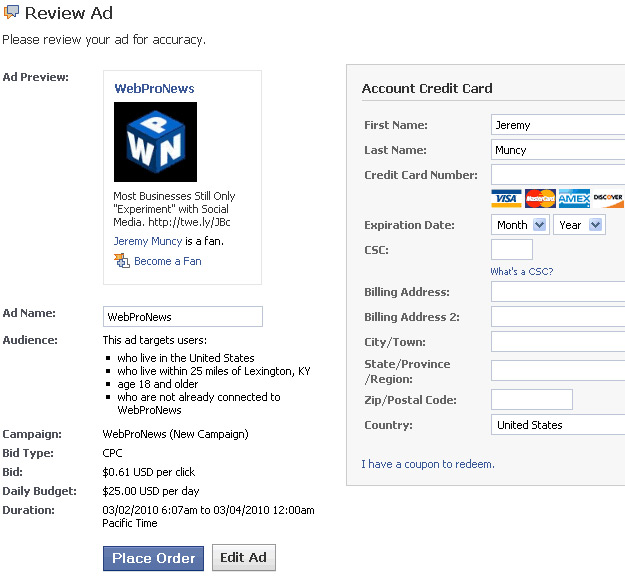 Interestingly enough, this comes after talk last week about how you have to have promotions approved by a Facebook account representative, which would reportedly cost you about $10k. This would appear to eliminate that notion.
The feature appears to only be available for some admins of some pages. We're not sure if they're rolling out the feature or just testing it. I've contacted Facebook to learn more about the feature, and I'll update when I receive a response. Any other Facebook Page admins getting this feature? Let us know.