Facebook announced that its privacy settings can be better controlled from anywhere you access the social network. They are rolling out mobile privacy settings via m.facebook.com/privacy. You can also go to the settings page and click "change" next to "privacy settings" from there.
It's interesting that it's taken this long to do so, considering how the privacy changes were launched back in May, but better late than never, I suppose.
"All of Facebook's privacy controls are now available from any browser-enabled mobile device to the more than 500 million people, like you, who are using Facebook in every country around the world. Few online services offer any privacy controls to their mobile users. None that we know of offer the same control as the desktop version," says Facebook's Michael Eyal Sharon. "As mobile devices have become more sophisticated and widespread, we've noticed that people are creating content and accessing Facebook at every moment of the day, in many locations—not just from desktops."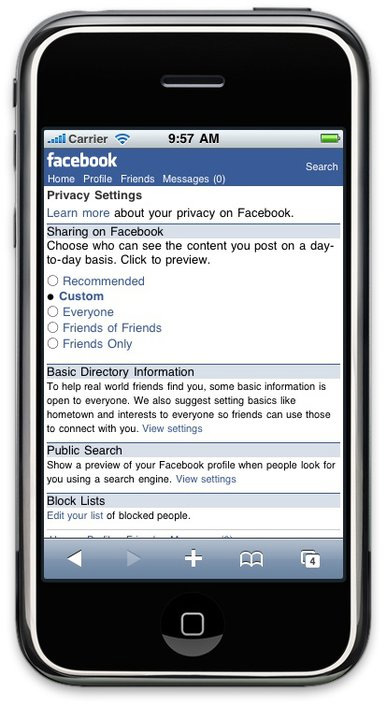 "Wherever you are connecting and sharing through Facebook, you should be able to make real time decisions over your information," he adds. "Now you can."
On a related note, Pandora, one of Facebook's launch partners for the Open Graph, is also making privacy settings more visible, though you still have to log in on a computer to adjust those. Perhaps they'll consider an update to their mobile apps as well. Facebook also updated its Android app.