A patent that Facebook was awarded about a month ago, called "Visual tags for search results generated from social network information," is suddenly getting some industry attention.
The official description of the patent says:
Search results, including sponsored links and algorithmic search results, are generated in response to a query, and are marked based on frequency of clicks on the search results by members of social network who are within a predetermined degree of separation from the member who submitted the query. The markers are visual tags and comprise either a text string or an image.
Greg Sterling at Search Engine Land calls it a patent on social search – an area, where Google is placing more focus these days (with good reason).
We've talked repeatedly about how important it is for the search engines to get social search right, and without Facebook data, it seems unlikely that Google will be able to do that – at least as long as Facebook continues to be the dominant form of social communication. Luckily, there are third party tools emerging to help bridge the gap.
We've also talked about how Facebook could become an important contender in the search market. This patent only adds more fuel to the fire in that department. Facebook has been doing other things to improve its search feature, and this isn't the first search-related patent for the company either.
The bottom line is that with so much social interaction going on among true friends and family, the most trusted (by any given user) opinions are most likely to be obtained via Facebook than on any other site on the web. That information is incredibly valuable for many types of searches.
Meanwhile, Facebook is about to do something interesting with Deals: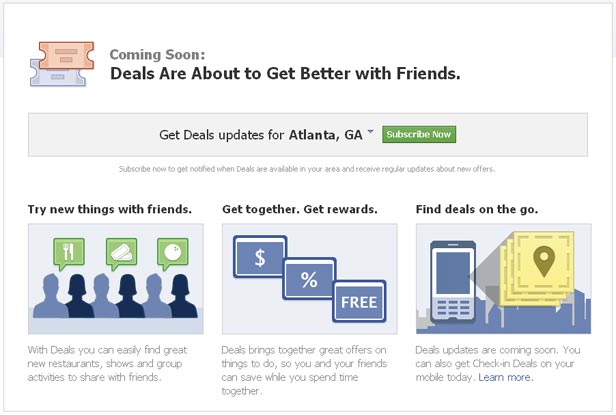 In case you can't read that, it says, "Subscribe now to get notified when Deals are available in your area and receive regular updates about new offers."
Right now, the only cities listed are Atlanta, Dallas, Austin, San Diego, and San Francisco, but "more cities coming soon."
Things are going to continue to get more interesting for companies like Groupon and Foursquare, as we see more overlap between the Deals space and the location-based service space. While this particular offering from Facebook is more Groupon than Foursquare, Foursquare is increasingly becoming more of an interesting place for businesses to turn to for customer offers.
On a side note, having just got back from Austin, I'll say that Foursquare's presence was felt tenfold over Facebook's throughout SXSW Interactive. CEO Dennis Crowley (pictured below, playing an actual game of Foursquare at a company party at SXSW) said that Google would make an interesting partner.  He also said that he is not opposed to potential Facebook Places integration, though he doesn't hear demand for it very often.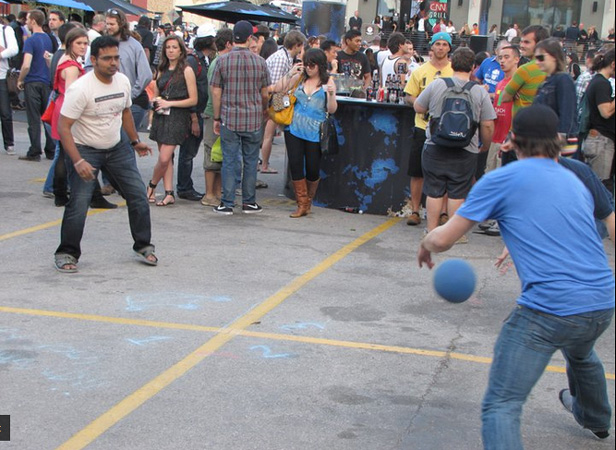 Deals and location are both areas that Facebook and Google may find themselves competing with each other more and more. Foursquare could end up being a key component to that, as a leader in the LBS space.
Do you think Facebook poses a threat to Google? Tell us what you think.