Depressed and suicidal people living in the UK and Ireland may now, thanks in part to Facebook, be more likely to receive some help.  Facebook's partnered with a suicide prevention group called Samaritans so that users who see ominous content will know to report it to the organization.
The screenshot below shows how this arrangement works.  Facebook's approach isn't exactly the equivalent of a giant red button on every page, but at the same time, that's Facebook's main Help Center page, not some buried specialty page.  So this appears to strike a decent balance between traditional site design and supporting people.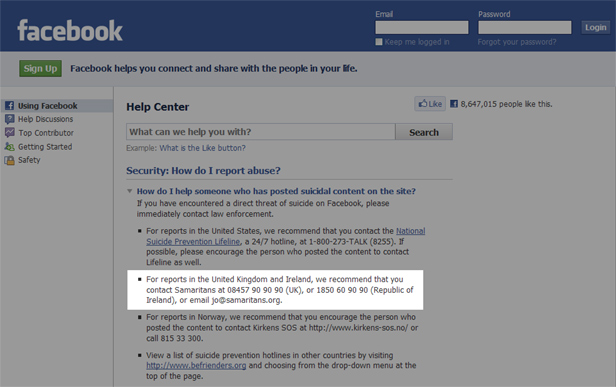 Catherine Johnstone, CEO of Samaritans, certainly seems satisfied with the situation.  She wrote in a Facebook note, "Through the popularity of Facebook, we are harnessing the power of friendship so people can get help.  As a friend you are better placed to know whether someone close to you is struggling to cope or even feeling suicidal."
Meanwhile, Richard Allan, Director of Policy for Europe at Facebook, said, "We're pleased to welcome the expertise of a great partner in Samaritans.  They will help to make our robust reporting system even more effective, as friends are encouraged to look out for one another on Facebook as they do in the real world.  This supplements the number of ways to get help already available on Facebook, from our Help Centre to the reporting tools we offer."
More information is available at the official Samaritans Facebook Page (along with the official site) if anyone's for any reason interested.
Let's hope this development achieves what it's meant to.