This week, Warner Bros. began offering more movies for rental through Facebook. Fans can now watch movies like Inception, Harry Potter and the Sorcerer's Stone, Harry Potter and the Chamber of Secrets, Life as We Know It, Yogi Bear, and The Dark Knight directly on Facebook by visiting the respective fan page for each film, and clicking the "Watch Now" button.
Wheels are in motion that would seem to indicate we will be seeing more on this front. First off, Kara Swisher at AllThingsD reports that Warner Bros. is in talks with Flixster for a possible acquisition. This doesn't exactly equal more Facebook rentals, but if the movie studio bought Flixster, it would mean it would own a great deal more movie fan interaction on Facebook.
Last year, Facebook and Flixter's Rotten Tomoatoes announced a partnership to make Rotten Tomatoes personalized for users when they're logged into Facebook Using Facebook's instant personalization, users can see reviews and movies they've recently "liked" or want to see, as well as recommendations. "Our new social features are 'word-of-mouth' on steroids," said Joe Greenstein, CEO and co-founder of Flixster, which owns Rotten Tomatoes.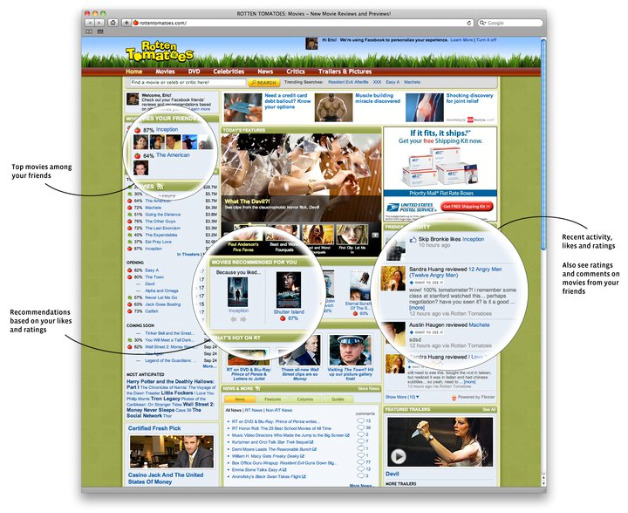 "Our users tell us that critics' reviews are important – but they're just one tool they use when considering a movie," he added at the time. "Flixster users have contributed more than 2.5 billion movie ratings across all of our applications, and through our partnership with Facebook we'll help users sift through all of those ratings and instantly find the ones from people who matter the most to them."
Well, that could certainly tie in nicely with an increased catalog of movies available to watch right on Facebook. In fact, Swisher says her sources claim that Warner Bros.' interest in Flixster is directly tied to a "spate of recent digital efforts, including its expansion of a movie rental experiment on Facebook."
In related news, this morning VMIX announced what it is calling the industry's first solution for offering video rentals on Facebook in which viewing is not limited to Facebook – people who rent the video can watch it on Facebook or on a device like a smartphone, tablet, PC or Internet-connected TV. "This is the first time any of this has been made possible so it's significant for the studios as well as movie fans," a spokesperson for the company tells us.
Browsing VMIX's list of customers, you will see that Warner Bros. is on there. When asked if Warner Bros. is using VMIX to power its recently announced rentals, the firm said it could not comment on Warner Bros.
"Studios can now transform Facebook fan pages into destination sites for browsing, renting and sharing premium video," said VMIX President and CEO Pat Burns. "Sites that deliver full-length features and TV series capable of turning your Facebook fans into paying customers and valuable viral promoters."
"We believe Facebook is ready for video that holds true value, and we think Facebook users are beginning to demand content they can love instead of like," he added.
"It's all about location," said CTO Greg Kostello. "Facebook is the number one destination on the web, with more than 600 million consumers connecting to brands and products by the minute. Over 700,000 businesses have pages on Facebook, with top companies supporting a network of over 64 million Facebook fans and growing. We intend to deliver the very best tools for video social commerce into that market."
The product gives companies integration with social-commerce engines to keep transactions and consumers on Facebook, as well as live and on-demand video streaming direct to Facebook fan pages, control of video rights management and distribution, and interactive templates and galleries for content promotion.
Other brands listed as customers of VMIX include: Dancing with the Stars, ESPN, The CW, and WGN. If the Warner Bros. experiment goes well, that list could increase significantly.