The good news for Facebook is that it is still growing. Over the month of May the social network snatched up another 11.8 million users. In April they gained 13.9 million new accounts. And according to Inside Facebook, the service is just a hop, skip and a poke away from 700 million total users worldwide (687 million by the beginning of June).
So what's the bad news that comes along with those numbers? Well, overall it's that the growth is not exactly as large as Facebook is accustomed to. In the average month over the last year or so, Facebook gained at least 20 million new users. When you know that stat, 11.8 million new users in May and 13.9 million new users in April doesn't sound as impressive.
It also looks like some early-adopting countries may have run up against the wall.
The United States apparently did not just have a slow growth month, but actually lost Facebook traffic. Facebook lost almost 6 million American users during the month of May, from 155.2 million to 149.4 million. Canadian users dropped less dramatically, but still significantly with a 1.52 million user loss. Other places like the U.K. and Norway also had losses, albeit smaller figures like 100K.
Later adopting countries posted solid May users growth, however, with Facebook in Thailand growing 7.1%, Brazil 10% and Mexico 7.6%.
What could be the reason for the loss of 6 million Facebook users in the U.S. over the course of one month? Has Facebook hit its peak in America, and so the only place to go is down? It's unlikely that Facebook is becoming significantly less popular here, although the rise of other competitors for social media real estate could have some impact.
When you look at the numbers, you have to think – just how much of a country can realistically be expected to join Facebook? Inside Facebook notes that their Gold Facebook data suggests a slow down when countries reach around half the population connected to the site. At the beginning of May 155 million people had Facebook accounts, and the total population of the U.S. is a little over 300 million. Did we simply hit the 50% threshold?
But a couple million users loss in early-adoption countries shouldn't be too troubling to Facebook, as they continue to take over the world. Seriously. Take a look at this map –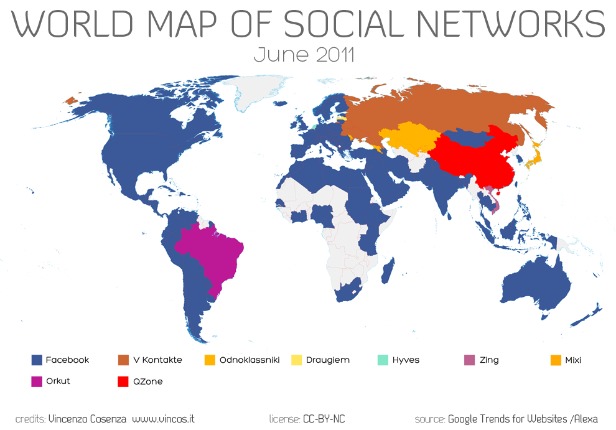 See all that blue? Now, take a look at this one –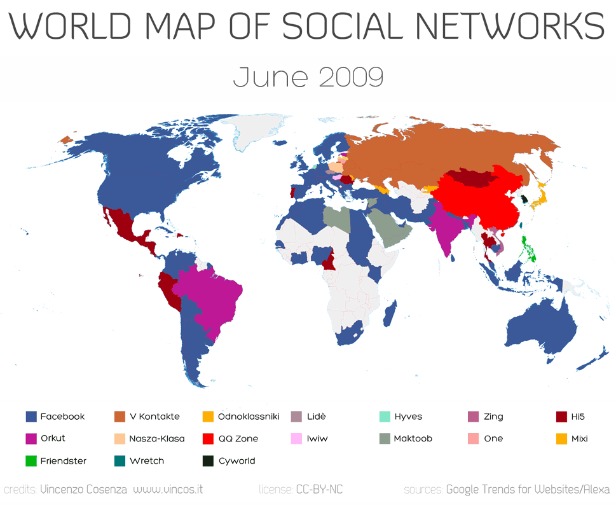 These maps are courtesy of Vincos Blog, who has been analyzing traffic data from Alexa and Google Trends for the past few years. The maps show the top social network sites in each county. As you can see, Facebook dominated in 2009, but has continued to expand and take over in 2011. According to their data, 119 of the 134 countries studied are led by Facebook.
Europe is now the most Facebook-heavy continent, with 205 million users. Also, next time one of these maps comes out, that big purple country in South America will most likely be blue according to the numbers.
One more interesting find – Twitter and LinkedIn are on the rise. Since December of 2010, the two networks have moved into second and third place respectively in the States. Twitter is also now the second place social network site in Australia, Canada, France, Germany and the U.K.
Is Facebook's spot on the throne in any jeopardy worldwide? Definitely not. They will continue to paint the map blue in coming months. But it is entirely possible that Facebook has gone almost as far as it can go in countries like the U.S. When you claim half the population, it's hard to ask for much more. Maybe the month of May was simply a blip, and Facebook will grow 15% in June, who knows? And the future? I'm sure their ultimate goal is right around 100% American membership.