Facebook has launched a new mobile app for feature phones in order to get more people in the world using Facebook via their mobile devices. This should help with that.
"We want people to have a great mobile experience no matter what type of phone they carry," said Facebook program manager Mark Heynen. "Smartphones have offered better features for sharing with friends but aren't used by most people around the world."
The app works on over 2,500 devices from Nokia, Sony Ericsson, LG, and others, and was built in cooperation with app developer Snaptu, which has also built apps for Twitter, Picasa, and Mashable.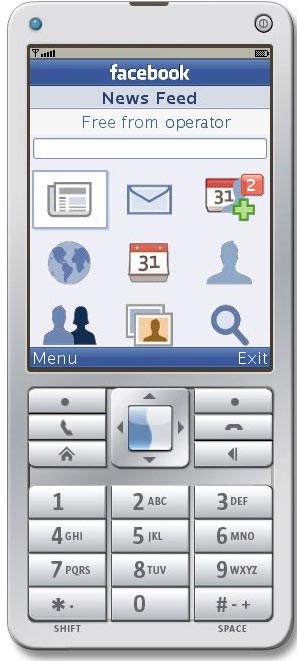 "The app provides a better Facebook experience for our most popular features, including an easier-to-navigate home screen, contact synchronization, and fast scrolling of photos and friend updates," says Heygen. "We also wanted to make it available to as many people as possible. Similar to the 0.facebook.com site, we've worked with mobile operators from around the world to let you try this without paying for any data charges."
The app can be accessed via m.fb.snaptu.com/f through Dialog (Sri Lanka), Life (Ukraine), Play (Poland), StarHub (Singapore), STC (Saudi Arabia), Three (Hong Kong), Tunisiana (Tunisia), Viva (Dominican Republic), and Vodafone (Romania). Soon, it will be available through Mobilicity (Canada), Reliance (India), Telcel (Mexico), TIM (Brazil), and Vivacom (Bulgaria). Each of these carriers is offering free data access for the app for 90 days.