The pre-F8 Facebook news continues to roll in. The company announced via blog post today that it is adding a couple of new features for users: Community pages and "more connected" profiles. Community Pages, Facebook says, are "owned collectively by the community".
"Just like official Pages for businesses, organizations and public figures, Community Pages let you connect with others who share similar interests and experiences," says Facebook's Alex Li. "On each Community Page, you'll be able to learn more about a topic or an experience—whether it's cooking or learning a new language—and see what your friends and others in the Facebook community are saying about this topic. Community Pages are still in beta, but our long-term goal is to make them the best collection of shared knowledge on a topic."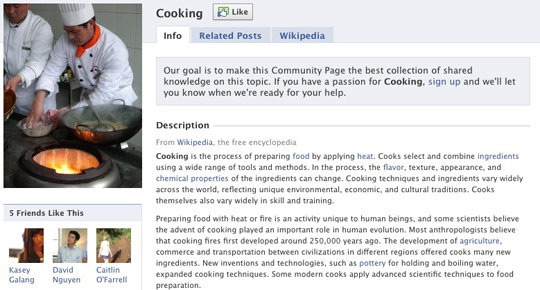 In case you're thinking that this sounds like Facebook doing its own Wikipedia, Li adds, "We're starting by showing Wikipedia information, but we're also looking for people who are passionate about any of these topics to sign up to contribute to the Page. We'll let you know when we're ready for your help."
Ok, it still kind of sounds like Facebook is doing its own Wikipedia – "best collection of shared knowledge?" I guess that would fit into that whole Facebook dominating every aspect of users' web use scenario. Why not throw in shared knowledge? I wonder what kind of quality guidelines there are with this. Or spam controls for that matter. The "cooking" page picks up posts that have the word "cooking" in them. From friends and on a global basis.
Facebook is reportedly starting with 6.5 million of these community pages.
As for the more connected profiles, Li says, "Now, certain parts of your profile, including your current city, hometown, education and work, and likes and interests, will contain 'connections.' Instead of just boring text, these connections are actually Pages, so your profile will become immediately more connected to the places, things and experiences that matter to you."
The new connections are opt-in. Users can elect to opt-in to all connections or specific ones on an individual basis. Look for plenty more announcements from Facebook throughout the week. The F8 conference is on Wednesday.