Facebook announced today that it has partnered with TripAdvisor to bring "Instant Personalization" to the travel site. The integration will allow TripAdvisor users to tap into their friends' travel experiences while planning their own trips.
If a user is logged into Facebook, they can see friends' reviews and access a map showing places where friends have visited, as well as a list of their most popular destinations.
"For example, when you're researching a location, hotel or restaurant, you'll see friends' reviews first, so you can make better vacation decisions," explains Facebook's Tiffany Chang Black. "And if you need some inspiration, the new personalized TripAdvisor home page will now show a world map with all the places friends have said they've been using TripAdvisor's Cities I've Visited app. Don't just look through your friends' vacation photos on Facebook; get tips from them and go on your own adventure."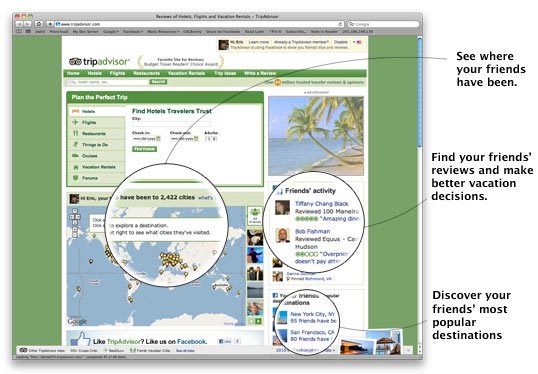 "TripAdvisor is a new instant personalization partner and becomes customized for you by using your public information and list of friends from Facebook to show you friends' reviews and other content you might find interesting," she adds.
Back in June, TripAdvisor introduced a "Trip Friends" feature, which allowed users to get advice from their Facebook friends when planning their vacations. The new instant personalization would appear to be an extension of this existing integration.