Five months ago, Microsoft announced that Hotmail users in Brazil, France, Germany, Russia, the U.K., and the U.S. could begin to chat with their Facebook friends while checking their email. Now the integration of Hotmail and Facebook Chat is complete in every place where Facebook is available.
We'll admit: this may not sound like a big deal insofar as it's pretty simple to toggle between a Hotmail tab and a Facebook tab. But the development at least goes to show that relations between Microsoft and Facebook are as good as ever.
Also, a slight increase in usability is something, and the change could come in handy when access to Facebook is restricted (by employers, for example).
Finally, a post on the Inside Windows Live blog pointed out, "Since announcing the availability of Facebook chat in Messenger worldwide two weeks ago, nearly 2.5 more million people connected their Facebook accounts to Windows Live, bringing the total to over 20 million customers. And with three out of four Hotmail customers using Facebook, we expect that many more people will want to take advantage of this feature . . ."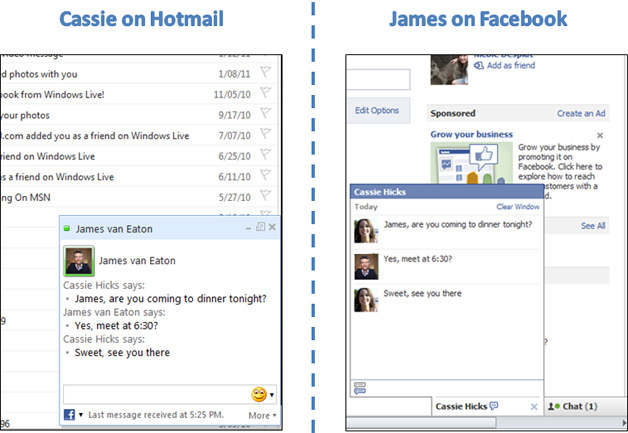 So if you're interested, the post later suggested, "[F]irst connect your Facebook account to Windows Live and make sure the 'Chat with my Facebook friends in Messenger' box is checked to give your consent to Facebook. We'll link your accounts (this may take a few minutes), and you can start a chat from Hotmail just by clicking on the name of a Facebook contact. If this doesn't work right away, sign out and back in again, and you should be good to go."