Computer engineers interested in a free trip to Palo Alto, some cash, and perhaps a job offer should pay attention. Facebook's announced something called the Hacker Cup, and top competitors will receive at least those first two prizes for sure.
Tim Stanke explained the goal and the setup in an official Facebook Engineering Note. He wrote, "We're starting the Hacker Cup to bring engineers from around the world together to compete in a multi-round programming competition. Contestants will have to successfully solve algorithmic-based problem statements to advance and are ranked by accuracy and speed."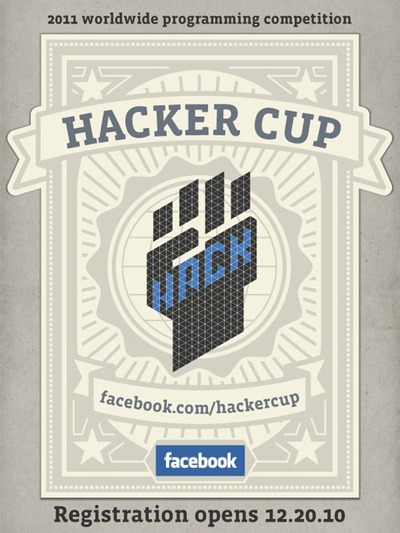 As for some specific details, the registration period is scheduled to begin on December 20th, and an online qualification round will take place on January 7th. Then two other online rounds will take place on January 15th and January 22nd.
Finally, Facebook will fly the top 25 competitors to Palo Alto for a showdown on March 11th, and the first, second, and third place prizes are $5,000, $2,000, and $1,000, with everyone else in the top 25 getting $100.
Facebook Engineering Puzzles are available if anyone wants to get in some practice. Otherwise, we'll just stand back, wish everyone good luck, and wait to see what happens.
It may be true that not a lot of money is at stake, but this contest still represents a good opportunity for engineers to make themselves stand out to Facebook and other important companies worldwide.