CrowdStar, the makers of popular (on Facebook) games like "Happy Aquarium," "Happy Island," "Zoo Paradise," "Happy Pets," and "Hello City", has entered into a five-year strategic relationship with Facebook, in order to accelerate growth of these games.
"As part of this announcement, Facebook Credits will be the exclusive in-game virtual currency around the world for current and future CrowdStar games," a representative for CrowdStar tells WebProNews. "Since CrowdStar started using Facebook Credits in its games in December 2009, its revenue earned per customer has increased almost 50 percent, helping fuel CrowdStar's growth."
"We're delighted to be working with Facebook for the long term, and we're very optimistic about the benefits Facebook Credits brings to fans of CrowdStar games and the entire social gaming ecosystem," says CrowdStar CEO Niren Hiro.. "As more developers adopt Credits, its ease of use across applications will continue to attract more paying customers and increase profits."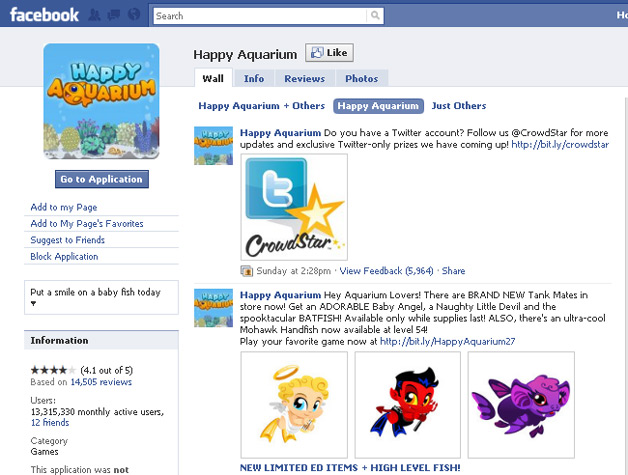 "CrowdStar has been a valued and important partner in the testing and development of Facebook Credits, and we're pleased that our companies have formalized our commitment to work together," adds Dan Rose, VP of partnerships and platform marketing at Facebook. "We're committed to building the best social games platform in the world on Facebook for users and developers, and Facebook Credits is an important part of our strategy."
Facebook has put an increasingly amount of emphasis on Facebook Credits lately, and it is very likely that credits will become a very significant part of Facebook's future on the web.