In August, Facebook brought its privacy controls to browser-enabled mobile devices. In October, the company added a dashboard to give users a way to see and control the ways applications use their information. Now, Facebook is making these same controls available on mobile phones, so users can update and manage the info they share from wherever they're at.
"In a mobile environment, it's especially important for user controls to be simple and easy to use, and we've applied a lot of learnings from the web to what we offer on devices," a representative for Facebook tells WebProNews.
A full list of all the Facebook applications users use, along with when those apps last accessed the users' information is available in the Applications and Websites section of the privacy settings.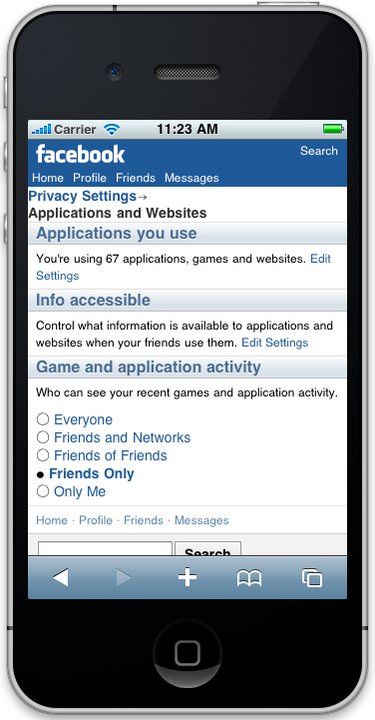 Users can also adjust settings for things like basic profile information, photos, videos, friends' info, etc. This can all be found at m.facebook.com/privacy.
"It's important for you to always have control over the information you want to share," says Facebook mobile product manager Rose Yao. "And as more people use their phones to connect and share information, we'll continue to innovate and improve your mobile privacy controls so you can enjoy Facebook wherever you go."
Over 200 million people use Facebook on their mobile phones. The new mobile features will be rolling out to all users over the next few weeks.
Facebook has been the center of a great deal of privacy-related controversy this year, but that has generally cooled down as the company has made several adjustments. That's not to say that everyone is satisfied, but things like this that give users more control can't hurt, especially when public brand perception has taken a hit.