Facebook has acquired Divvyshot, a photo sharing service. Staff will join Facebook's engineering team. Divvyshot founder Sam Odio tells WebProNews, "We're thrilled to be joining the Facebook team and look forward to kicking ass there."
Divvyshot describes itself as an "effortless way to see and share photos important to you, your friends, and your family. The company was just founded last year, and it's made up of three people: Odio, developer Paul Carduner, and designer Michael Yuan. It's located in San Francisco.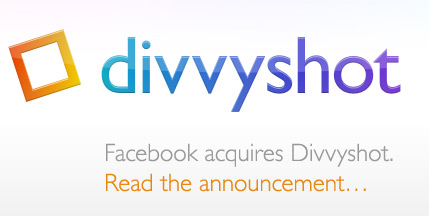 Divvyshot will begin turning off features in two weeks, at which point it will disable event creation. In four weeks, it will disable photo uploads. In six weeks, it will redirect visitors to Facebook.com.
"We know many of our users will have mixed feelings about this move," says Odio. "While this means Divvyshot as you know it will cease to exist, it's important to realize that our unique approach to photos will live on. This is an opportunity to touch hundreds of millions of users with the best parts of our product."
Starting today, no new accounts will be issued, and the iPhone app will no longer be available for download.
Financial details of the deal are unknown at this point.