Early on in the aftermath of Google's Panda algorithm update (sometimes referred to as the "Farmer" update), EzineArticles was reported to be one of the hardest hit sites. The following week, CEO Chris Knight told WebProNews, "We've had quite a few niche categories go up in traffic but the overall is still lower than before last Thursday."
Still, Knight immediately began making big changes to the operations of the site, in an effort to quickly recovered the lost traffic. We looked at some of that here.
Now, Knight has a blog post/video up, responding to a question from a user, who was under the impression that the site has lost 90% of its traffic. "It's not true," Knight said. "Recently, Google had an update that hit us, and we lost between ten and thirty-five percent of our traffic."
"In our eleven-year history of EzineArticles.com, we've never been hit by an update until now," Knight said, referencing the fact that Google' makes updates about every day.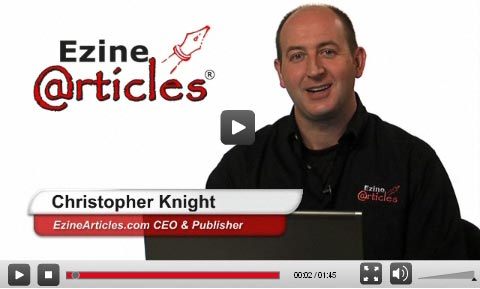 "This update went after 'thin content'," he added. "This is low-quality derivative content. In fact, we agree with Google on this update, and we've made sweeping changes to our quality review system – our editorial guidelines our internal processes."
"Every year since we began – every month actually – we've risen the quality bar. However, in the last few weeks, we've risen a year's worth of quality bar raising in about a two-week period of time. In an effort to weed out thin, derivative, low-quality content, and highlight and identify what is the absolute best content. In fact, I've never been more proud of the content I see in EzineArticles.com today, and I'm really happy about…I'm not happy about losing the traffic, but I'm really excited about the quality of the content I see now."
"In conclusion…we did not lose 90% of our traffic," Knight said. "In fact, some markets within our 700-niche markets that we serve, went up. Others went down, but overall, we lost between ten and thirty-five percent of our traffic, but we still are serving over one million visitors a day."
Knight would not respond to a recent request for comment on EzineArticles' traffic.
One important fact for this site (and any other site affected by the Panda update) to consider is that Google has only launched the update in the US so far. There are some rumblings in the forums that Google may have launched Panda in the UK, but comments from UK webmasters seem to dispell the notion. We've heard nothing about it from Google so far.
When Google first launched the update, Google's Amit Singhal and Matt Cutts said, in these exact words, "To start with, we're launching this change in the U.S. only; we plan to roll it out elsewhere over time. We'll keep you posted as we roll this and other changes out, and as always please keep giving us feedback about the quality of our results because it really helps us to improve Google Search."
Unless your site gets all of its traffic from the U.S., you may be in for further damage from Panda, if you've already been affected by it. This will be true each time it rolls out in another country. That is, if you haven't made adjustments to your content that keep it up to Google's quality standards.
Of course, that's easier said than done, because Google doesn't exactly give you a manual. There are some things we know, and some other things that are possible, however, that may help.
EzineArticles.comDon't settle for the results you're getting today, even if they are great. Always look to create greater results tomorrow & be phenomenal!

2 days ago · 7 likes · Comment

@ChrisKnight
Chris KnightI've rec'd some pretty nasty hate mail & I fear it's going to get much worse as our article rejection rate climbs even more steeply today.

27 days ago via web · powered by @socialditto
@ChrisKnight
Chris KnightUser-generated content that is extensively human quality controlled & thoughtfully curated is not a content farm.

23 days ago via Twitter for iPhone · powered by @socialditto
@ChrisKnight
Chris KnightLoved this forum comment someone made: "There is such a thing as too much "quality control" & EzineArticles has gone far beyond that point!"

19 days ago via web · powered by @socialditto