Twitter, LinkedIn, and especially Facebook are valuable marketing tools in a quantifiable sense, according to new data from Eventbrite. Eventbrite, which deals in online ticket sales, found that a single "share" on Facebook is worth about $2.52.
Note that Eventbrite's exact figures may not hold true for businesses selling things other than tickets to conferences, concerts, fundraisers, and so on. Just the same, the company conducted its study over 12 weeks, making its findings hard to question.
As for the nature of those findings, it seems a share on Facebook is worth $2.52 in increased ticket sales, a share on LinkedIn is worth $0.90, and a share on Twitter is worth $0.43. Which isn't too shabby, even on the low end.
Tamara Mendelsohn, Director of Marketing at Eventbrite, explained how the effect is possible by writing on the corporate blog, "The hyper-relevancy of the social graph breeds deeper engagement, greater sales and stickier audiences."
The diagram below also does a solid job of making the reaction easy to grasp.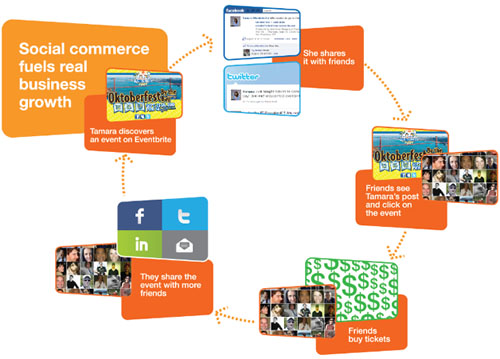 These findings represent great news for small businesses and marketers. Facebook, LinkedIn, and Twitter may have an easier time selling regular ads as a result, too.