The European Commission is reminding teenagers to "Think before you post!" on social networking sites as Europe marks Safer Internet Day.
The Commission said 50 percent of European teenagers give out personal information on the web, which can remain online forever and be seen by anybody.
At last year's Safer Internet Day, 20 companies signed the Safer Social Networking Principles, including YouTube and Facebook, but a report from the Commission says more measures need to be put in place to protect children's privacy online.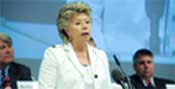 "If we want children to think before they post, social networking companies should post the right information using the right language. Last year the European Commission urged companies to act, and I am glad that many have heeded this call," said EU Commissioner for Information Society and Media, Viviane Reding.
"However I expect all companies to do more. Minors' profiles need to be set to private by default and questions or abuse reports have to receive quick and appropriate responses. The internet is now vital to our children, and it is the responsibility of all to make it safe."
Highlights from the report include:
Only a third of social networking sites responded to user reports asking for help
40% of social networking sites assessed make minors' personal information visible only by their friends by default
Only 11 out of 22 make it impossible for the private profiles of minors to be found through search engines
Related Articles:
>EU Launches Online Consumer Rights Guide

> EU Probes UK Over Internet Privacy

> EU Commissoner Pushers For Independent ICANN