Dunkin' Donuts said today it has launched a redesigned website with a focus on local content and social media.
The new DunkinDonuts.com features a homepage with localized content, an improved store locator, and the ability for users to connect to Twitter, Facebook and YouTube.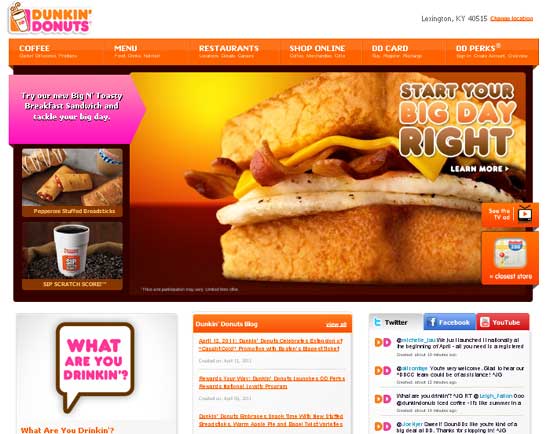 The company has also launched its first blog called "Behind the Beans," which aims to provide users with news on the latest menu items, recipes from the company's culinary team and Q&A with company leaders.
Other features of the new website include:
*A mobile-friendly layout, offering users better navigation and directions to Dunkin' Donuts restaurant in their area.
*A Trip Planner feature for users to map out stores along their diving route.
*A detailed restaurant locator offering information about store hours, in store Wi-Fi and menu options.
*Live feeds on the homepage from Twitter, Facebook and YouTube.
 "By offering even more information that our guests frequently ask for, I'm hopeful that this new website will be both useful and entertaining, while serving up an excellent experience for our guests," said John Costello, Chief Global Customer and Marketing Officer at Dunkin' Brands.