Something about this just feels so right.
Candace Cameron Bure (formerly just Candace Cameron) thrilled the hearts of 80s kids everywhere yesterday evening when she began Tweeting about her first visit to the Full House houses, where the famous intro to the beloved TV show was filmed.
Cameron, who of course played the eldest Tanner girl D.J., apparently took a trip to San Francisco for her husband's birthday. Not only did she snap some nifty twitpics of her trip, but she tweeted them out with lyrics to the Full house theme song. She even witnessed what appeared to be a tour guide showing tourists the houses. I guess they are a national treasure – as they should be.
Here are the tweets, in order, documenting her trip –
And here's another pic, which looks like her kids in front of the houses. According to another tweet, one of her daughters kept telling people that her mom was D.J Tanner. Awesome.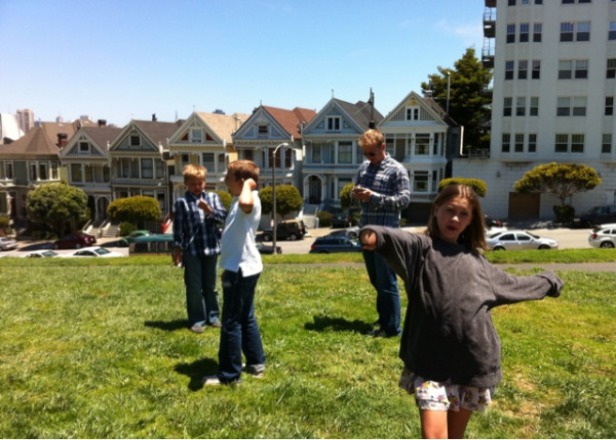 Strangely enough, Candace Cameron's first return to the place of her childhood employment fell on the birthday of Mary-Kate and Ashley Olsen. They both turned 25 yesterday. And Dave Coulier tweeted about it.
This is just about as Full House-y of a day as can be, although it doesn't appear Bob Saget or Jodie Sweetin made any Full House news last night. Maybe we should name June 13th National Full House Appreciation Day anyways.