ChatRoulette is a site that is getting a lot of attention. Some think it could be the "next big thing" on the web. The concept is simple. You chat via a webcam or keyboard with random strangers. If you don't like the one you're currently connected to, just click a button (or hit F9), and you're on to the next one. Maybe at some point you can find someone you like, have something in common with, or don't find incredibly repulsive.
It's not for everybody. Anybody can use it, but not everybody wants to talk to random strangers. A lot of people still don't "get" Twitter. If ChatRoulette grows that big, it's going to have just as many, if not more people questioning the point of its existence. Still, people are flocking to it. There is a market for this kind of thing.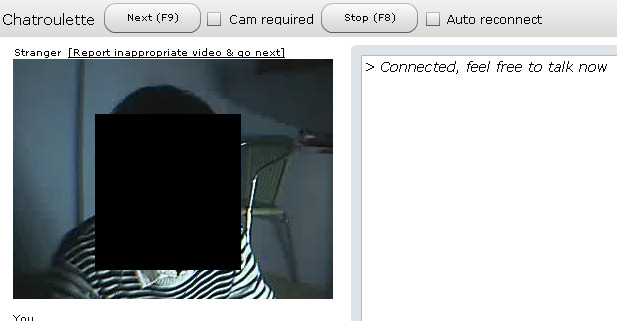 We signed on and talked to a number of people to try and gage the interest of ChatRoulette's users. Why exactly are they using this site, and what are they hoping to accomplish? Is it just killing time? Are they looking for friends? Romance?
One person told us they just use it to meet people for fun. "If I'm bored or something," they said. They said they have had a few interesting conversations with strangers, but some of it has been "some disgusting guys showing their d****." (Note: Beware that if you start using the site, you may be blindsided by stuff like this)
"They got to stop…it's annoying," this person tells us. And they've only been using it for a week. Actually, some of the attention ChatRoulette has been getting has been based on this kind of obscene behavior. Chatroulette clearly says on its home page that it "does not tolerate broadcasting obscene, offending, pornographic material, and we will have to block users who violate these rules from using our service," but that does not stop people from using it for those purposes.
A Huffington Post article likens the service to "inviting pedophiles into your home." Scary stuff, but that doesn't mean there isn't potential for cleaning the site up. The guy who runs the site is only seventeen years old, and there has already been interest expressed from investors. This thing could become much bigger in time, and managed more thoroughly.
That's not to take anything away from founder Andrey Ternovskiy. Policing such a site would be a burden for most, and he's clearly a quite knowledgeable kid. He started ChatRoulette for fun and has been coding since the age of 11. He talked a good deal about his background to the New York Times. According to that article, the site gets "about 20,000 users on a typical night."
One could envision ChatRoulette utilizing a traditional social media model, where people can follow (or friend) one another, but for right now, it's just random. It's kind of like a video chat version of StumbleUpon, without the personalization features. There is plenty of potential for features to be added in the future though, and perhaps better management of obscene behavior. This site may be one to keep an eye on.
Have you used ChatRoulette? Would you? Does it have the potential to become something really big? Share your thoughts here.