Online video guide Clicker said today it has partnered with UCLA on a new service bringing online entertainment and university video content to students via the school's Web portal, MyUCLA.
The partnership between Clicker and UCLA will give students access to content from sites and networks like ABC, MTV, PBS, Hulu and YouTube. The content will feature television shows, music videos, movies, web originals, as well as UCLA content such as lectures and symposiums.
"College students are clearly some of the most avid consumers of online media," said Jim Lanzone, founder and CEO of Clicker.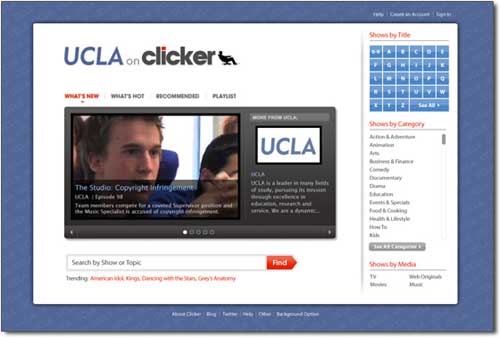 "Our new service will give UCLA students a more effective way to find legal online entertainment, and a more efficient way to access UCLA's substantial body of original videos, together in one seamless experience. UCLA on Clicker will take the guesswork out of finding what is available to watch, where to watch it, and what's worth watching online."
Clicker said its co-branded version of its service combines its existing 600,000-episode catalog with original videos from UCLA. In addition, UCLA on Clicker was developed and will be supported without student dollars. The site is available to UCLA students for free.
Related Articles:
> Online Video Viewing Continues To Boom
> 35 Ways to Improve Your Online Video Performance
> Facebook Catapults Into Third Place Among Video Sites