Social media is still a hot button issue within some organizations, because it only takes one tweet in a moment of poor judgment to bring a round of a round of negative attention upon a brand. That goes for sports organizations too.
Cleveland Browns head coach Eric Mangini reportedly gave a lecture on social media to his players following such an incident from cornerback Brandon McDonald who posted a vulgar trash-talking tweet aimed at Bengals receiver Terrell Owens (screenshot here). McDonald has since apologized for the tweet.
Twitter has given athletes a new way to connect with fans and with each other in recent years, and more appear to be embracing this than ever.
"That means tech-savvy players are building their own brands and having fun in the process," writes Zac Jackson with Fox Sports Ohio. "That also means moments of temporary numbskullery — like McDonald's tweet that used vulgar language and insinuated vulgar things — go public. And viral. And though it was just one stupid comment that probably was an inside joke more than actual threat of any type, it made the wrong kind of headlines. And it made Mangini take time from what's otherwise been the kind of low-key camp the coach likes to talk about…Twitter. Really."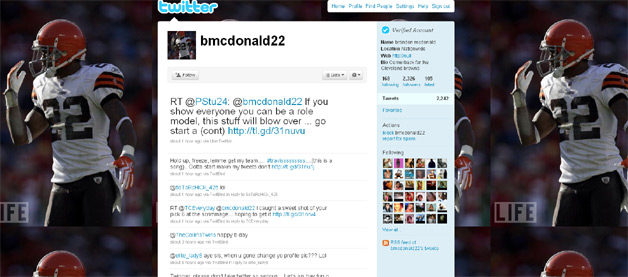 While not all industries are likely to draw out the amount of trash talk as professional football, the incident does show a clear example of where employees can tarnish a brand all too easily in 140 character or less.
This would probably be enough to send a lot of managers into a rage and ban employee social media use, but Mangini at least understands that it's not so simple, and while these kinds of things can happen, the benefits outweigh the negatives.
"I don't expect people to stop using it," Mangini is quoted as saying. "It is a good way to communicate to our fans. We know with Browns fans, they can't have too much information, can't have too much of a connection and that's a great thing. But like with anything else that you do, you have to do it in the right way and a way that represents the organization the right way."
On another Football/social media related note, Wired points to a social media site specifically aimed at connecting college coaches and potential recruits, called Play Next Level. Just another example of how social media is changing how things are done, even in sports.