Citysearch recently announced a set of APIs to make all of Citysearch's local listings content and advertising available to other Websites and mobile apps. It's called CityGrid. Today, the company announced an online advertising solution called CityGrid Complete, as an extension of that.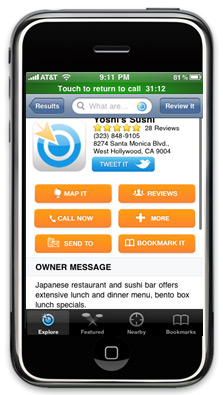 CityGrid Complete was built around an investment from Citysearch in OrangeSoda. CitySearch tells WebProNews that with the investment, they will offer local advertisers:
– Access to a pay-for-performance advertising platform and campaign management tools

– Scalable search engine optimization solution on the Web, including targeted keyword optimization, and reporting (ranking, conversation tracking and trending)

– Local listings optimization, including business profile optimization and phone call tracking and reporting

– Wider distribution across CityGrid
"Whether it's driving new customers to our advertisers from major search sites or mobile applications, CityGrid Complete is about delivering local businesses the highest quality leads for the best value," said Citysearch CEO Jay Herratti. "By combining the distribution power of CityGrid with OrangeSoda's platform, every small business in America now has access to a one-stop local advertising solution with SEO strategies and tactics that historically required a large dedicated team of experts."
"Every search engine has introduced local directory listings prominently in their organic search results and this has given small businesses another way to get featured in the search engine results real estate," said Jay Bean, CEO of OrangeSoda. "For over 15 years, Citysearch has helped small businesses gain exposure on other websites, and now they want to help small businesses gain better exposure through organic search results. By bundling our expertise and tool set with CityGrid, we are offering small businesses a revolutionary local online advertising package that no other company offers."
OraneSoda has provided SEO services to brands like International Truck, Remax, and Jiffy Lube.