Mobile answers service ChaCha has introduced a new Facebook application that allows users to access answers from both ChaCha and their Facebook friends.
The ChaCha Facebook app allows users to ask a question to any of their friends on Facebook and the question is also automatically submitted to ChaCha. ChaCha says it will return an answer from its database of hundreds of millions of answers. Users can also select "add to profile" to get a permanent "Ask ChaCha" prompt on their profile pages.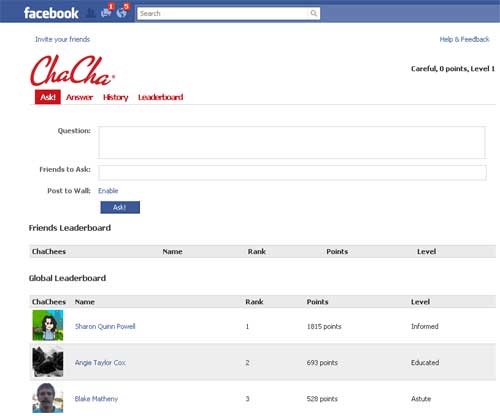 Facebook users can also select "share" when they submit a question, and it will post to their friends walls. Users receive points for questions they answer and they will receive different titles which are displayed on a leader board.
"We are publishing this initial version of our Facebook application, which gives access to our fun and informative content within the Facebook community, but also encourages Facebook friends to provide answers too," says Scott A. Jones, Chairman and CEO of ChaCha.
"This socially-connected version of ChaCha can be particularly helpful for subjective questions, such as, 'Where's the best Thai restaurant, and what should I order on the menu?'"