The concept of quality over size when it comes to an audience is nothing new, and frankly when it comes to social media, the sermon is getting a little tired. We've heard it plenty of times.
However, Twitter has been sharing some interesting information on its media blog lately that really drives the point home, providing data to back up the notion that quality over quantity is important when building a healthy Twitter following.
Twitter's Robin Sloan has an interesting post on the Twitter Media blog, looking at the science of the hashtag – a follow up to his "art of the hashtag" post, which is interesting in its own right. The post looks at a hashtag that gained some big momentum last week – #LessAmbitiousMovies – and looks at how that momentum was achieved.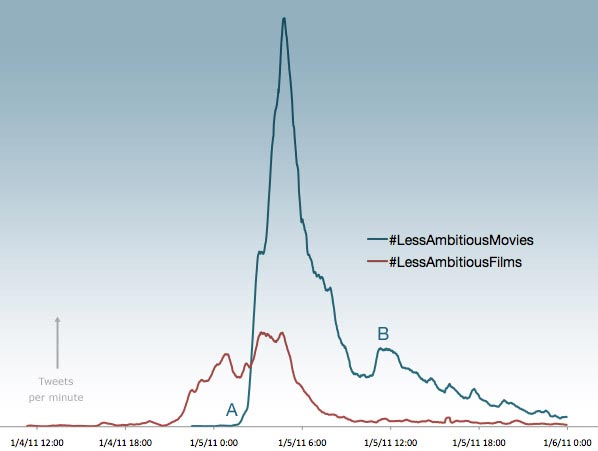 To summarize, the hashtag gained momentum when Lizz Winstead, the co-creator of The Daily Show, tweeted a whole bunch of updates using that hashtag and a similar one – #LessAmbitiousFilms – which was actually the original version. She had about 15,000 followers. One of them was science journalist Alexis Mardigal, who had 36,000 and retweeted one of Winstead's tweets. Barracks O'Bama (15,000), a comedy account, also posted a bunch of tweets using the hashtag, and the combination of these accounts led to the skyrocketing of the hashtag as seen in the above chart.
Now, these accounts have solid follower counts, but they're nothing like the numbers of the big celebrities, which have far wider reach. The smaller spike (point B on the graph) represents when Katy Perry (5.2 million followers) used the hashtag. The spike is not nearly as high.
"No: there was something special about the people who follow Lizz Winstead and Barracks O'Bama. There were fewer than 35,000 of them, but they were more attentive and more engaged—and maybe just funnier, too?—and it was their collective creativity that made #LessAmbitiousMovies briefly ubiquitous," says Sloan. "So add this finding to your hashtag playbook: getting a great hashtag in front of the right audience is more important than getting it in front of a big audience. Katy Perry's 5.2 million followers saw #LessAmbitiousMovies, laughed, and moved on. Lizz Winstead and Barracks O'Bama's crew of 35,000 saw it—and they made it their own." (emphasis added)
Another recent post from Sloan illustrates the building of a following through engagement, using the example of Daniel Tosh, host of the hit Comedy Central show Tosh.0, who was able to attract 17,000 followers in a single day.
Now, it certainly helps to have a hit television show, no doubt, but he interacted with Twitter users during the show, and was able to get a lot more followers than if he had just asked his audience to follow him on Twitter.
"So often on TV, you'll hear a flat exhortation ('Don't forget to follow me on Twitter!') or see a little graphic at the bottom of the screen—but I think those kinds of call-outs squander the opportunity of airtime," says Sloan. "On Tosh.0, as on Late Night with Jimmy Fallon, tweets flow organically into the show. They're woven into segments that showcase the host's interaction with his followers; they demonstrate that following this guy is a lot of fun; and, on Tuesday night, they helped recruit 17,000 new souls who will probably be game to answer his next question."
Having a call to action for people to follow you on Twitter can't be a bad thing, but the real lesson is that finding ways to engage your audience will likely do a lot more to boost your following (and further engagement). Granted, not everybody is going to get the kind of following Tosh has. We're not all celebrities with our own TV shows, but that doesn't mean you can't find more ways to engage with users from your website, your online videos, or within social media channels (like Twitter) themselves.
In other words, don't just put a "follow us on Twitter" link on your site, go out and participate in the discussion, and find new ways to draw your audience into that discussion.