I think that if the emotion that I'm currently feeling could be summed up in a word (rather a sound), it would be EEEEEEEE!!! or something comparably high-pitched and vowel-heavy. That's because my favorite show on television and (inarguably, mind you) the best show on television returns tonight.
Good attempt, Game of Thrones, you almost did it. You almost reached the pinnacle of my TV favor. But in the end, Breaking Bad is still the show that excites me the most episode to episode. For all of you people out there that aren't watching Breaking Bad yet, shame.
If that's the case, NY Mag has a pretty good catch-up schedule for the first three seasons. So, DVR tonight's Season 4 premiere, spend next week catching up, and have a double feature next Sunday. Easy.
For all the rabid fans of the show (you can't just be a regular fan), there's this: Breaking Bad Bingo. Much more interesting than Apple WWDC Bingo, Breaking Bad Bingo compiles some of the show's most common occurrences. I'm pretty sure that the "Hank Panic Attack" and "Porkpie hat" spaces are sure things.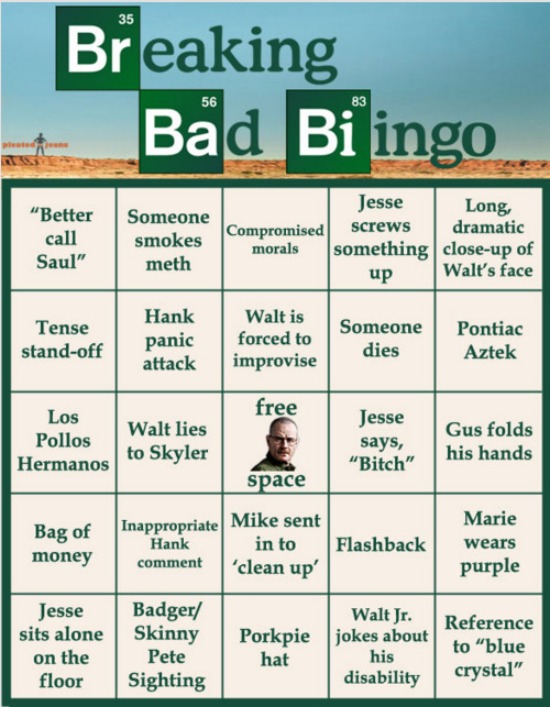 Time recently sat down with show creator Vince Gilligan to talk about the upcoming fourth season. During that interview, Gilligan discusses the future of the show – specifically when we can expect closure.
On whether Breaking Bad would be best served by setting an end date:

Yes, in a perfect world, absolutely. I remember when the creators of Lost went public, along with ABC, and told the viewers, told the fans, we will end on X date one or two years from now. I thought that was brilliant and I think more shows should do that , and I'd love for this show to follow in the footsteps of Lost and set an end date. It's tricky because there's so many moving parts. There's two very big companies who have a lot of, you know, we're all spinning a lot of plates here as it were.

But in a perfect world, a show like this in particular—there's no reason you have to set an end date to a wonderful show like ER or Law and Order, or something like that. There's no reason a show like that theoretically can't go on forever. It's somewhat designed to. But a show like this is designed to end. … It's one guy's story, and therefore to do right by the audience, the people who got us here, you really do need to set an end date, and I've sort of been pushing for that. I think it's time to push a little harder.
With all great shows, there's a delicate balance with regards to the ending. It's tough to say goodbye to a show you love, but when it stretches out too long you're usually left with a lesser quality product, a mere fragment of its original impact (I'm looking at you, X-Files).
If you can't seem to wait until 10 p.m. EST tonight, here is the extended Season 4 trailer featuring clips from all previous seasons spliced together with new footage.
[Image Courtesy AMC's Breaking Bad Site] [Hat tip to
Vulture
]