Black Friday saw $648 million in online sales, making it the heaviest online spending day to date in 2010 and representing a 9 percent increase over Black Friday 2009, according to the latest report from comScore.
U.S. ecommerce spending for the first 26 days of the November-December 2010 holiday season reached $11.64 billion, marking a 13 percent increase over the same period last year. Thanksgiving Day (November 26) saw online holiday spending up 28 percent to $407 million.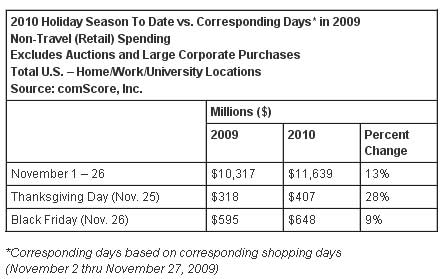 "Although Black Friday is known for the flurry of activity occurring in brick-and-mortar retail stores, online shopping is increasingly becoming the refuge of those preferring to avoid the crowds and long lines," said comScore chairman, Gian Fulgoni.
"The $648 million in online spending this Black Friday represents the heaviest online spending day of the season-to-date and a solid increase over last year's Black Friday. Interestingly, we are also seeing consumers beginning to buy online in a more meaningful way on Thanksgiving Day, which has historically seen low buying activity."
As the online channel becomes more influential in driving offline shopping behavior, consumers are turning to Black Friday sites on the Internet to do research in advance of the day's events. comScore analyzed eight Black Friday deal sites for the five days ending Black Friday (Nov. 22-26) compared to the corresponding days last year, finding that Black-Friday.net led the pack with 3.1 million unique visitors, up 42 percent versus last year. BlackFriday.info followed with 2.7 million visitors, while Black-Friday2010.com (up 478 percent to 1.5 million visitors) showed the greatest growth.
Other highlights about Black Friday bargain hunting include:
*The number of visitors to coupon sites on Black Friday grew 4 percent versus year ago to 3.6 million visitors, while the total number of visits to the category increased 16 percent to 7.4 million.
*BlackFriday.info was the most visited coupon site on Black Friday with 630,000 unique visitors, followed by CouponCabin.com (543,000), RetailMeNot.com (332,000 visitors) and Groupon.com (332,000).
*ShopLocal.com ranked as the most visited comparison shopping site on Black Friday with 2.1 million visitors, up 45 percent versus year ago.
Four retail properties surpassed four million U.S. unique visitors on Black Friday, with mixed results in comparison to last year. Amazon Sites was the most visited retail property on Black Friday, growing 25 percent from the corresponding shopping day a year ago, followed by Walmart, which saw a marginal decline of 1 percent. Target Corporation (up 9 percent) and Best Buy Sites (up 1 percent) rounded out the top four.
"Amazon, with a sizeable increase in traffic on Black Friday, continues to experience remarkable success during the holiday season," added Mr. Fulgoni.
"We will be watching closely to see if the leading online retailer is able to sustain this momentum through Cyber Monday and into the heart of the online shopping season."