AOL announced that it has acquired ad platform firm Pictela. The company makes what is described as a "high-definition brand content platform" for online advertising and social media. This follows other recent acquisitions by AOl, such as that of TechCrunch, Thing Labs, 5min Media, and StudioNow.
AOL says the pick-up will bring further scale to its suite of ad tools for advertisers, agencies, and publishers, and that it will specifically be used in AOL's "Project Devil" display ad format.
Project Devil ads feature all functionality within the ad, so users don't have to leave the page, and can include rich media content. "Devil Pages" have only a single ad on a page to give advertisers "complete ownership".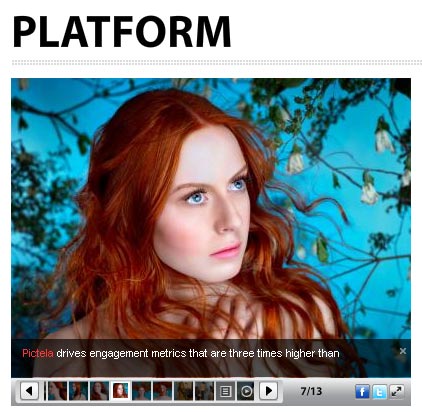 "Pictela is an outstanding fit for AOL as we re-imagine the intersection of content, advertising and the consumer experience," said Jeff Levick, AOL's President of Global Advertising and Strategy. "Pictela's product development team is best-in-class, and its beautiful, content rich, media display formats meet Interactive Advertising Bureau (IAB) and Online Publishers Association (OPA) standards that run across AOL Media properties and other publisher sites. We've taken one important step towards spotlighting quality ad content with Project Devil on AOL Media properties, and now we're taking a second by bringing Pictela into the AOL Advertising family."
"We believe that joining AOL is an outstanding opportunity to combine with a company that is as committed to redefining brand advertising on the Web as we are," added Greg Rogers, Co-Founder and CEO of Pictela. "As one of the world's premium publishers, AOL will not only be one of our biggest customers, it will also be our greatest resource with the scale, technology and commitment to world-class content to help realize the true potential of the online environment."
Pictela will remain a separate group within AOL Advertising, and will continue to provide its products and services to outside partners. Financial term of the acquisition were not revealed.