AOL has released the results from a new survey, conducted by Nielsen, about parenting and social networking. The survey found that over half of children don't knows all of their "friends" personally.
The survey also found that 76% of parents with kids on Facebook have "friended" their teenagers, while 29% of these teens would un-friend their parents if they were given the option. Heartwarming isn't it? These kids are twice as likely to un-friend their mothers as opposed to their fathers.
Along with the survey, AOL has released a new product called Safe Social, which provides parents with a "360 degree view of their child's social networking life". This includes a report card of overall social networking activity and identification of potential red flags.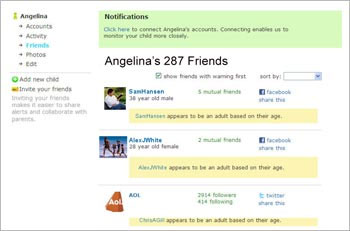 Safe Social requires consent from the child to allow parents access to their kids' friends list and what they're posting on Facebook, Twitter, and MySpace. Parents can even get alerts about potential predator relationships and indications of "at-risk behaviors" like references to alcohol, bullying or suicide.
"Predators, whether bullies or sexual offenders, often masquerade as friends," says John Ryan, AOL's head of Online Safety and Security. "The key is to unmask them. Safe Social takes an across-the-board look at your kid's friends and checks them against more than 50 databases and other factors, such as distance, to help you find out if they are, who they say they are."
Safe Social also addresses reputation management issues for teens, giving parents the ability to review postings, uploaded photos in which their kids are tagged, etc.