AOL has acquired video syndication platform 5min Media. 5min claims to reach 160 million unique monthly visitors and has tens of thousands of videos across 20 categories and 140 sub-categories.
Video content from 5min includes things as diverse as recipes, yoga and fitness routines, tech tutorials, DIY projects for home and garden, health videos on specific conditions, beauty and fashion tips, video game walk-throughs, etc. It includes content from over 1,000 of the world's largest media companies and professional independent video producers, according to AOL.
"Our acquisition of 5min Media is the latest in a number of steps we have taken this year to better position AOL to capture the growing video opportunity on the Web," said AOL CEO Tim Armstrong. "AOL is building a video ecosystem for the next decade. 5min Media is the perfect complement to our powerful video capabilities — it provides a missing piece in the AOL value chain that completes our end-to-end video offering from content creation through syndication and distribution to the consumer experience and monetization."
"AOL and 5min Media share the same excitement about the direction our industry is taking, and our complementary video capabilities make us a compelling fit and an attractive combination for content creators and publishers," said Ran Harnevo, Co-Founder and CEO of 5min Media. "We've seen rapid and successful growth as an independent organization and becoming part of AOL is a natural next step. We're confident that AOL's organizational horsepower, combined with the vast library, audience and syndication capabilities 5min Media offers, present compelling opportunities for AOL as well as the content creators we work with and the publishers we serve."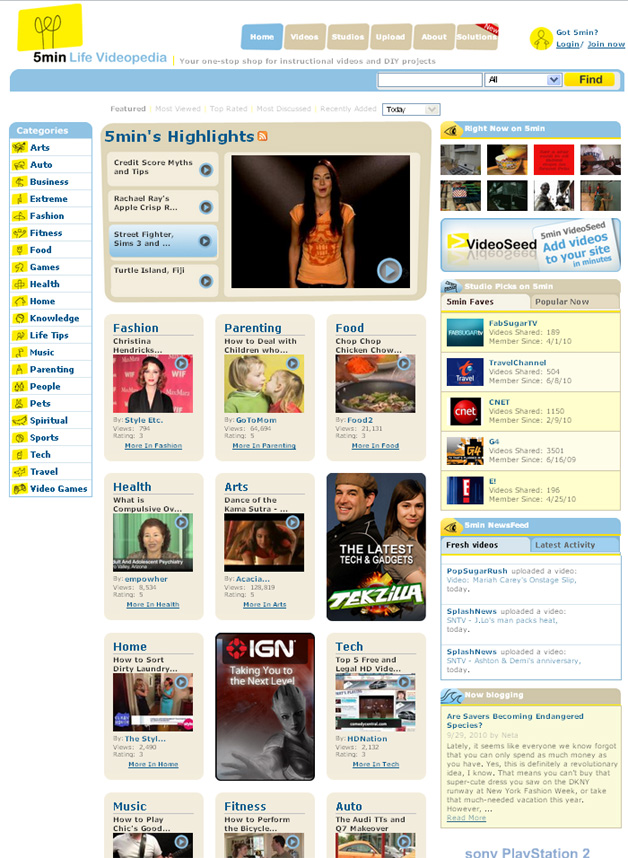 AOL has already begun to integrate 5min Media's video content on its sites through a commercial agreement executed before the acquisition. "With 5min Media we'll be able to add more video inventory to our pages. Importantly, we'll also be able to identify video content holes among our sites, tap our StudioNow capabilities to fill those needs and create a truly 'demand informed' video library," said Armstrong.
Finanical terms of the acquisition have not been disclosed, though the price has been estimated between $50 million and $65 million.
There are also rumors going around that AOL may be buying technology blog TechCrunch. This would also add to AOL's content arsenal.