Android users who are also AT&T customers should no longer have to worry about pulling out a credit card and typing a long sequence of numbers every time they want to buy an app. Late yesterday, Google introduced an AT&T Direct Carrier Billing option for this audience.
A post on the Android Developers Blog explained, "AT&T Android users can now easily charge their Android Market purchases to their monthly accounts with only a few clicks. With the combination of Android Market's new app discovery features and a carrier-backed frictionless payment method, users will find it significantly easier to discover and purchase applications of their choice."
That should be good news for consumers. No one likes annoyances, and it's not like Google's playing "gotcha"; there is a 15-minute refund window in the event an Android user misclicks (or some kid gets hold of the phone).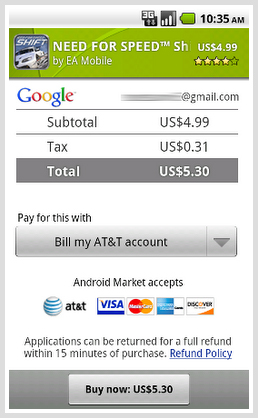 Of course, lack of "gotcha"s or not, this move is almost sure to increase app sales, so developers are also likely to be onboard.
Then in case anyone on a different network is feeling jealous, the blog post noted, "We strongly believe carrier billing is a great way to make it easy for users to purchase and pay for applications. In addition to the availability of AT&T and T-Mobile US carrier billing, we'll continue to partner with more carriers to offer carrier billing options for their subscribers."
We'll keep an eye out for further developments, then.