AmericanGreetings.com has introduced a video greeting that includes Facebook profile photos and information to allow users to put their friends into birthday wishes.
The new greeting, called "Breaking Birthday News," features a news broadcast that can be customized for the recipient, the app is free for all Facebook users.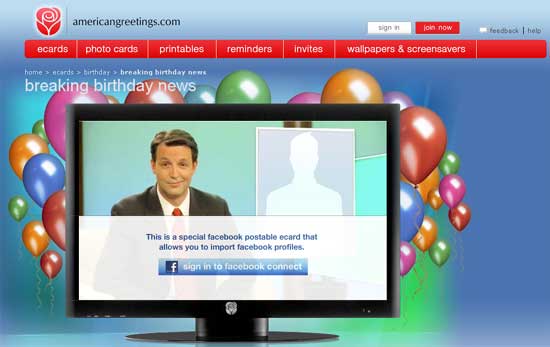 "This new greeting is a fun combination of our continued work with Facebook and the enhancement of high-quality video to present greetings unlike anything else available," said Jane Carpenter, vice president of brand marketing, AGInteractive.
"We know that consumers will have a lot of fun with the video greeting, and we are looking forward to creating new ways to enhance their experience on Facebook even more."
After choosing to send the greeting, users can select a friend from their list of connections, customize the greeting with a message and post it on their friend's wall.