Amazon.com has released its annual 2010 Holiday Toy List, which features this year's most popular toys, video games, sporting goods, electronics, music, movies and books for kids.
The online retailer has introduced free two-day shipping , or a $10 credit towards a future purchase for Amazon Prime members, when they use a MasterCard to buy $75 or more in eligible items from the Holiday Toy List.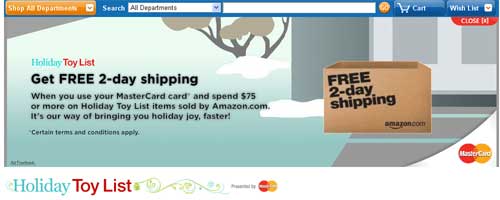 The Holiday Toy List features navigation tools that allow users to narrow and expand search results. Users can sort by "bestselling," "price" or "average customer review," then filter by age, category, gender, price range, discount and brand.
"At Amazon we are focused on making holiday shopping simple and cost effective for parents, friends and family members," said Sarah Wood, director of the Toy & Games Store for Amazon.com.
"We know saving money is very important to our customers, and now when they use their MasterCard to purchase select items from the Holiday Toy List they can get faster shipping at no additional cost."