Update: The new Kindles are already sold out (temporarily obviously). On the product page, the company says, "Due to strong customer demand, Kindle is temporarily sold out. Order now to reserve your place in line. Orders are prioritized on a first come, first served basis. Orders placed today are expected to ship on or before September 4th." (hat tip: GeekSugar)
Original Article: Amazon's Kindle has been making a lot of headlines lately, and now the company has introduced a new generation of Kindle devices. The new Kindle is smaller, lighter, faster, and has 50% better contrast than any other e-reader on the market, according to Amazon.
It has a new electronic-ink screen and a new design with a 21% smaller body, while keeping the 6 inch screen of the old Kindle. It's 15% lighter at 8.7 ounces. Amazon claims it has 20% faster page turns, up to a month of battery life, built-in Wi-Fi, a graphite color option, and double the storage, holding 3,500 books. The price is $189, and still comes with free 3G wireless.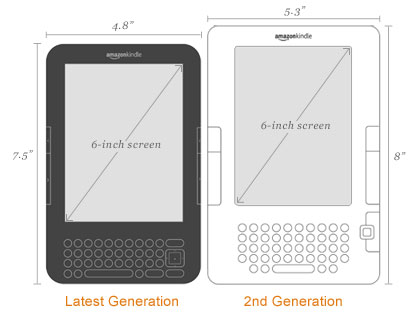 Amazon has also introduced the Kindle Wi-Fi, which doesn't come with 3G, but is only $139.
"Kindle is the best-selling product on Amazon for two years running. We lowered the price to $189 and sales growth tripled," says Amazon CEO Jeff Bezos. Readers are going to do a double take when they see Kindle's bright new screen and feel how remarkably light the smaller 8.7 ounce design feels in one hand."
The new devices will ship in 140 countries and 30 territories on beginning August 27.