Customers of the largest online retailers are more satisfied than ever according to ForeSee Results' annual report on holiday shoppers.
The ForeSee Results E-Retail Satisfaction Index (U.S. Holiday Edition) jumped 7 percent to 79 on the Index's 100-point scale, a new all-time high. Websites for Macys, SonyStyle, The Gap, The Home Shopping Network and Overstock.com had the greatest increases in satisfaction year over year, with all five seeing increases of 10 percent or more.
"Even in this tough economic climate, e-retail continues to be the bright spot in a dark environment and last year's declines are proving to be the anomaly," said Larry Freed, president and CEO of ForeSee Results.
"But those gains aren't necessarily shared across the board. These are the biggest retailers on the web, and they've got the ability to invest in the web channel and even meet the price points that consumers are looking for in this economy. Smaller and midsized e-retailers may not be so lucky."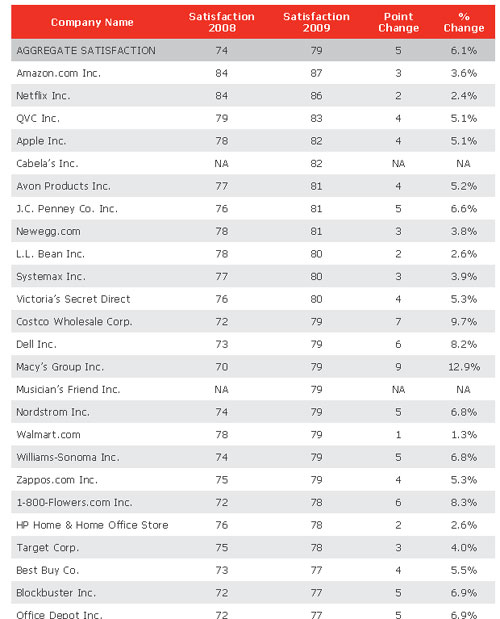 Amazon scored the highest with 87, improving 4 percent since last year and setting a new record for the Index. Eleven online retailers scored over 80, and none scored below 70. A number of companies made big gains in score, and the most improved among them include Macys (up 13% to 79), Gap (up 10% to 76), and Overstock (up 10% to 76.)
The study found that a highly satisfied online shopper is 65 percent more likely to purchase online, 44 percent more likely to purchase offline, 70 percent more likely to recommend, and 49 percent more likely to return than is a dissatisfied shopper.
"It's no surprise that price is priority this year. It's a reflection of these difficult economic times," said Kevin Ertell, Vice President of Retail Strategy at ForeSee Results.
"But simply cutting prices isn't necessarily a business model for success, so prioritizing website improvements that customers value most is an absolute necessity."
Related Articles:
>Cyber Monday Deals Attract Online Shoppers

>Walmart Wins Thanksgiving, Amazon Wins Black Friday
>Online Retailers See Strong Cyber Monday Sales