Forecasters of all sorts have been working overtime the past week or so, discussing floods in the U.S., Greece's economy, and elections in the U.K. Now here's a little something for the tech community: Pingdom has predicted that Twitter will process 6.7 billion tweets in January.
Pingdom didn't base this estimate on a different company's growth pattern or some complicated formula. It didn't guess, either. Instead, a simple observation that there's been a 16.8 percent, 16.6 percent, 16.9 percent, 15.6 percent, 16.3 percent, and 15.4 percent growth in tweets over the last six months (November to April, respectively) came into play.
A post on the Royal Pingdom blog concluded, "[I]f tweet activity keeps growing by 16% each month, we will have gone from the 1.2 billion tweets of this January to a massive 6.7 billion tweets in January 2011."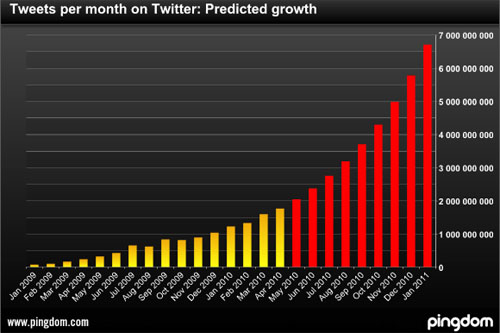 Also, "By January 2011, activity on Twitter will be increasing with almost 1 billion tweets per month," and "Twitter looks set to pass 2 billion tweets in May (this month!)."
This growth rate could of course turn out to be bad news if it correlates to an increase in spam or results in the return of the fail whale. Twitter seems to have had done a good job of correcting its technical problems, though, and of potentially greater importance is the fact that this growth rate would turn advertisers' heads.