The proposed Microsoft-Yahoo search partnership may soon be approved by one set of regulators, at least. A new report indicates that the European Commission will give it a green light one week from today.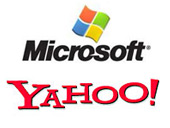 We should note that this isn't a sure thing; according to Reuters, an unnamed person who's "familiar with the situation" just said, "I expect clearance without any concessions next Friday." Still, that statement indicates a fair level of confidence, and Reuters doesn't tend to run groundless rumors.
So on to the ramifications. European approval will of course represent a major win for Microsoft and Yahoo; being told that they couldn't do business together in the European Union's 27 member states would make any deal much more complicated.
European approval also takes on special significance because the European Commission has been hard on Microsoft in the past, fining it $1.4 billion on one occasion.
Then here's one last, completely speculative, thought: approval of the Microsoft-Yahoo deal might even mean that the European Commission has started to worry about Google's dominance and wants to clear the way for a competitor.
We'll see what happens. The official deadline for a decision is indeed in one week's time.